Steeped – Recipes Infused With Tea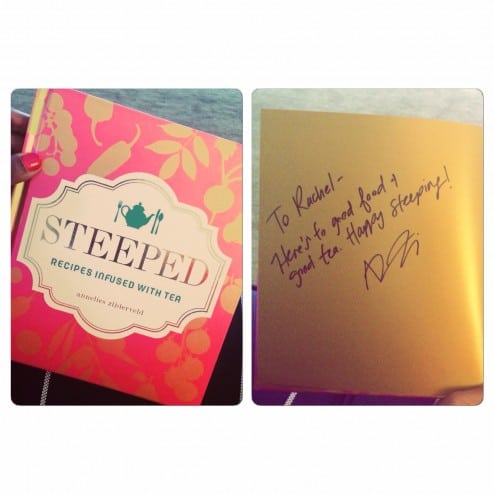 An author after my own heart.  I met this amazing author, Annelies Zijderveld during World Tea Expo 2015 in Long Beach last week and instantly knew I loved her, her mission, and just had to have her book. She cooks with tea plus all her recipes are vegetarian, jackpot!  So after much love and the obvious geeking out I now had my own signed copy of her new book.  Next stop will have to be getting in the kitchen to try her recipes. Today I'll be paging through this gorgeous book and make some tough choices.   I should add that I'm a very visual person and this book is beyond aesthetically pleasing and when you add tea and cooking to the mix you have a very happy and giddy me.
Order On Amazon: STEEPED Reciped Infused With Tea
Hi, my name is Rachana Rachel Carter.I am a long time tea addict, foodie, and wine enthusiast. Along with all my passions at the core I am a huge health and fitness advocate.Plus a bit of a geek and as crafty as can be.
When I am not running after the kids, managing the household, and homeschooling my oldest I enjoy blogging about my passions and how it applies to my life.

Thank you for reading!
Latest posts by iheartteas (see all)