If you don't know already I am a huge fan of tea and tech. If you can somehow combine the two successfully I am in love. At the World Tea Expo 2015 in chilly, yes chilly Long Beach, California I was introduced to the new love of my life. Let me introduce you to the Tea-Ceré by Sharp Home USA.
The Tea-Ceré is a matcha-making machine. In reality it can do some much more. I will however cover its basic features.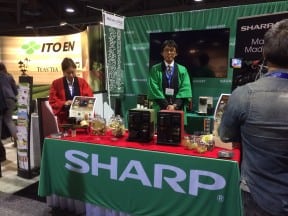 Step One: Spoon tealeaves into the grinder and fill water into the reservoir.
Step Two: Watch as the tealeaves are ground into a fine powder and the water heats up. If you prefer a coarse grind you have that option as well.
Step 3: Spoon ground matcha into the bowl on top of the machine where the tea and water will whisk together to make the perfectly smooth, fresh, and lump free cup of matcha. Spoiler: You can add milk into the bowl to make it a latte.
Step 4: Once complete dispense into a cup and enjoy! Repeat at will all day long.
Total estimated time to completion: 3 minutes.
Yes, in three minutes time you to can have a fresh cup of matcha or matcha latte. As many of us that saw the demonstration we too thought outside of the box. For example, Mr. Dan Bolton requested a black tea matcha and I had the pleasure of trying it and as they say the rest was history. I can see this machine being used for cooking. Much of the time getting the tea perfectly ground is the being challenge.
Both Nicole Schwartz (@amazonv) and I were probably the two most enthusiastic people that discovered the machine. We immediately proceeded to spread the love. We grabbed many people to try the machine possible. We probably stopped by the Sharp booth four to five times a day. Our enthusiasm was so infectious the good people at Sharp asked both Nicole and I to be interviewed for Japanese TV, obviously we said yes.
At this time, the machine slated to be released July 2015. Of course I will be snatching one up right away. The MSRP is $299.99 and at that price this tea loving techie will be making room on her counter for yet another can't live without tea machine.
Check out this Tilt initiative to get your machine, started by Nicole Schwartz.
Please enjoy these pictures of my friends and I enjoying our freshly made matcha.