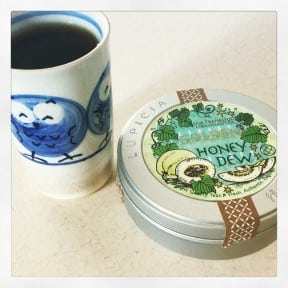 Starting my afternoon tea fix with a natural decaf delight from Lupicia Fresh Tea it is called Golden Honey Dew, it is a part of the San Francisco Collection.  This particular tea is a part of a exclusive 3 tin set that last I saw you can only buy at one of their locations in California it isn't available online. Very exclusive. However, the tea is available on its own.  It is a lovely South African Green Rooibos with dried melon pieces.  Green Rooibos is by far my favorite type of Rooibos.   I love how delicate green Rooibos is and how successfully it can be paired with other flavors.
It has an intoxicating aroma that envelops the senses the moment you open the packaging and remains present post steep.  I can only say that it smells like summer. I'll have to try it but I would imagine it would taste delicious iced or even made sparkling with some seltzer water even a possible tea cocktail in my future.  If I did that I would probably add a little sweetner.  Since this is a Rooibos I have a tendency to lean towards agave and honey.  I feel the taste lends beautifully to all varieties of Rooibos.  However, today I am having it hot and straight.
Overall it is delcious and a welcomed reminder of warmer days ahead.