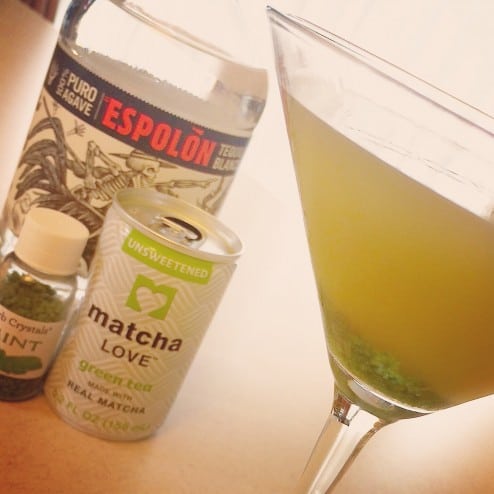 Back home after an amazing trip to Long Beach, CA for the World Tea Expo.  Enjoyed catching up with friends, meeting new friends, of course trying new products and in usual fashion I have taken a couple of samples I received and made something brand new.  Of course I couldn't disappoint my adoring fans, thus a new tea cocktail is born.
I plan on an extended review of my trip which will cover a few of my favorite things.  Right now I want to share this inspiration with you.  After going through my markedly heavier luggage from my return home I found a couple of samples I just needed to try together. I don't call myself a Mad Scientist for nothing.  We can call it a fusion of awesomeness.  Normally when I pair tea with alcohol I gravitate towards vodka. Vodka has a tendency not to alter the flavor of the ingredients I use to mix my drinks, especially tea.  However, after a stop at the Owl's Brew booth where they were blending their tea cocktail mixes with tequila I thought it was high time I expand my experimentation beyond my comfort zone thus was born the Matcha Mint Tequila Martini.
2 oz Ito En Unsweetened Matcha Love 
1/2 oz Monin Pure Cane Syrup 
1 tsp Mint Flavor Herb Crystals from Fresh Origins
In a small Ball jar with ice I put in all the ingredients, shook it, and strained it into the martini glass after placing the Mint Flavor Herb Crystals into the glass.  I tried to rim the glass but the pieces just wouldn't stick.  I will have to ask how the folks at Fresh Origins how they did theirs. So instead I kept them on the bottom.
Result:  FREAKING Smooth!  This coming from a card carrying vodka girl.  I will be playing with this recipe and tweaking it some more but I am pleasantly surprised and happy to add it to my personally approved list of tea cocktails.
Bottoms Up! 
*Note I would have used the Ito En Sweetened Matcha Love instead but already drank what I had.  I have ordered more and when it arrives I will recreate this drink using the presweetened version.