24 Days of Tea Advent Calendar from David's Tea 2015
Days 6-10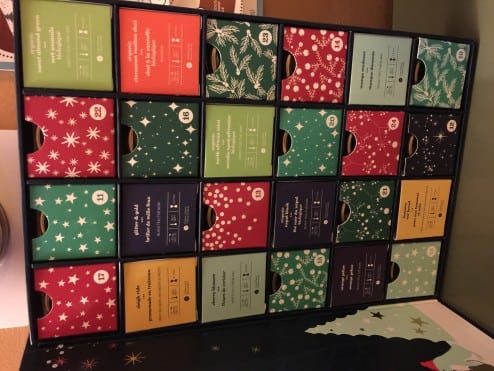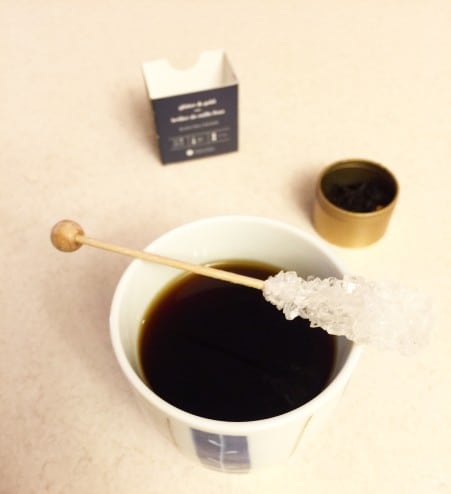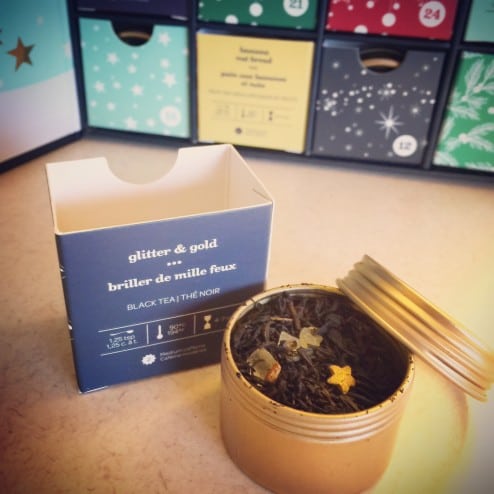 Day 6: Glitter & Gold (Least Favorite & Most Disappointing)
This tea is the perfect example that being pretty doesn't always equal deliciousness. This is actually one of the teas I was most looking forward to. I too was taken by the name, the tiny adorable gold glitter stars, and pieces of diamond shaped rock sugar lying in a black tea base. I tried it neat first and it tasted a bit odd to me. I detected cinnamon but the rest of it just didn't pair well for me. Now remember just because I wasn't a fan doesn't mean you won't love it. That is the beauty of tea. Different strokes for different folks. Next, I tried to experiment and added a diamond sugar stirrer from Chambre De Sucre but alas it ended up making my cup overly sweet and a touch syrupy but still the cinnamon background lingered. Last ditch effort, I added a splash of cream. At this point all I got was a hint of cinnamon and the rest wasn't salvageable. Final destination… down the sink. My daughter tried and was a bit more agreeable to it but it could be because of the sugar I added. Anytime I add sugar she is usually keen to it. Kids, you know they love their sugar. Disclaimer, there is a pretty good chance that this didn't work for me because it has cloves. In general I don't like the flavor of cloves. However, in chai it does often work for me. That could be the problem here for me but of course I suppose I'll never really know.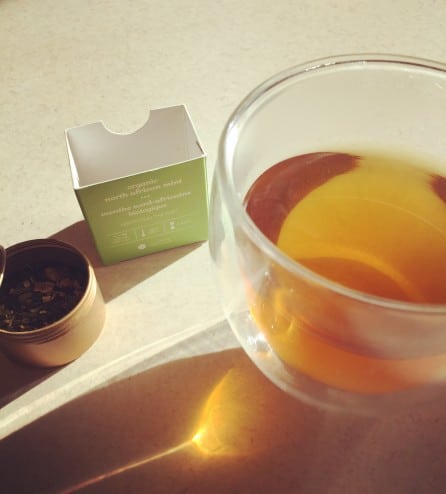 Day 7: Organic North African Mint (Most Favorite & Most Surprised)
Oh so good! Hit the spot in all the right places. I was feeling a touch under the weather on the day I tried this and this one did the trick. The mint was soothing, relaxing, the green tea was light and complimentary to the blend. My favorite part was just how perfectly and I mean perfectly balanced this blend was. It has a number of ingredients and like a Benetton ad they all played well together. This blend contains green tea, ginger, peppermint, cardamom, licorice root (love licorice), fennel (so good), clove, and black pepper. Here is why I was surprised. This one contains clove too but I loved it. Whereas the previous tea didn't work for me at all. Tea always keeps me on my toes. Definitely recommend this one. It will also likely be given a permanent spot in my tea cupboard.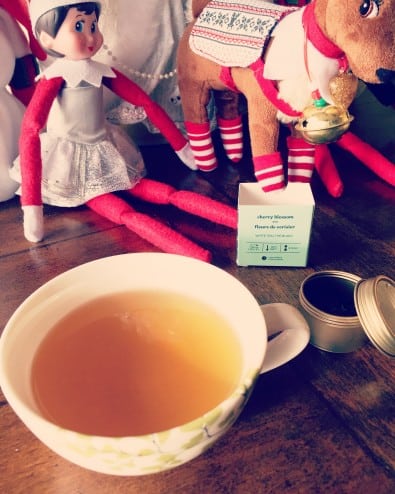 Day 8: Cherry Blossom
This one is more than meets the eye. You might think this is just a delicate white tea. Actually this one has a lot more than expected. This blend contains cherries, coconut chips, and rosebuds too. I can see this being served for an afternoon tea with your sweetie by your side. As I've stated before I have a difficult relationship with white tea. I found this one light as expected with no offensive flavoring. With that said it was the right base of choice when adding additional flavors. I love cherries, coconut, and rosebuds. Together this blend delivered as exactly as advertised. The aroma was strong with cherry. The coconut was mildest in flavor and the rosebuds stood out most when tasting. For me it was ok but that is because of my tea preferences. Otherwise the blend was spot on. Those who appreciate the white tea and other added flavors would enjoy this blend a great deal.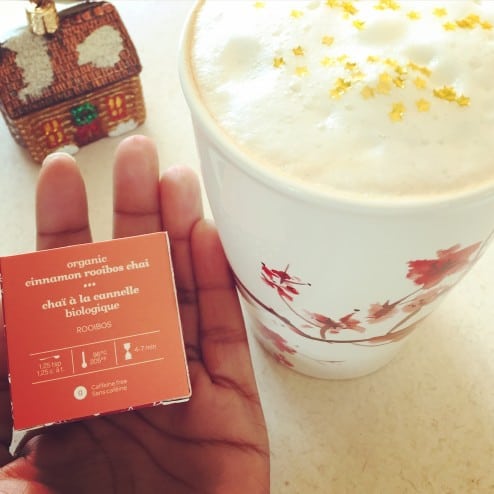 Day 9: Organic Cinnamon Rooibos Chai (BEST Tea Latte)
So excited about this. Feels like it would make an amazing, cozy tea latte, and that is exactly how I prepared it. It is made with Rooibos, apple, cinnamon, and smells like those "Red Hot's" candies from when we were kids. I made the entire tin in a large mug. Steeped it longer than recommended since I made it as a latte. I will try this straight but keep in mind I'll be sampling a stronger version than you would be if you followed the directions. When making my latte I added a bit of organic blue agave I picked up from Trader Joes and Horizon organic half and half I frothed in my Nespresso device that heats and froths up the cream. I can't say enough good things about this one as a latte. I tried it straight but obviously it was too strong since it was prepared to handle milk though I was surprised as to how smooth it was. As a latte it was perfect. It had the perfect amount of sweetness, the cream made it special, and the gold sparkly stars I added made it fun. Picture a much more sophisticated liquid "Red Hot's" Tea Latte. Less candy more warming cinnamon and spice. I will be getting more of this one.
Day 10: Organic Nepal Black
Before my first sip I could tell I would like this one. It is a classic black tea and as I tend to favor simple teas I believe this will hit the spot. I saved it for my afternoon fix. I felt it would offer just the required amount of caffeine to get me through the remaining day. This tea delivered exactly what I wanted. Though it is a straight black tea is isn't like every other black tea you have had. The unique qualities I detected were instant. There was an immediate sweetness, slight maltiness, and a touch of warm honey mixed in. It is a definite change from your traditional black teas.
Next week I'll be reviewing days 11 though 15
Disclosure: My views and opinions are mine and mine alone. I was not paid or given free merchandise for my review. These results are unbiased. Tea is very subjective and judgement should be reserved after you yourself try the tea. Happy sipping.