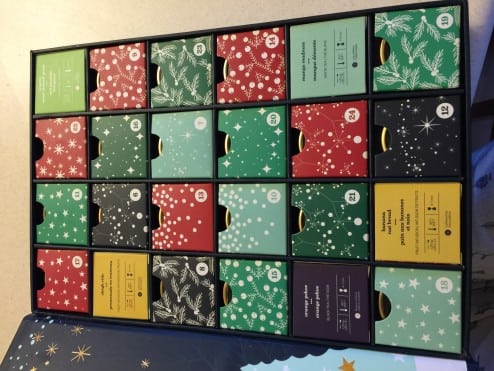 24 Days of Tea Advent Calendar from David's Tea 2015
Days 1-5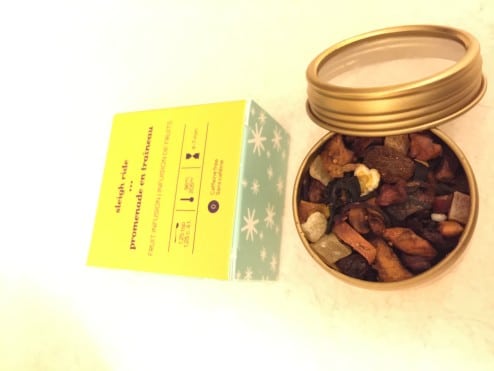 Day 1: Sleigh Ride 
Ah yes! Finally after waiting for so long and not sneaking a peek no matter how tempted I made it to December 1, 2015. I was eager so even before the sun came up I opened the box to discover my first tea of twenty four is this fruity herbal naturally caffeine free tea. I went on a literal "sleigh ride" on which I had what I can only describe as liquid fruit cake. Best part, it isn't stale and it won't dent the wooden floors if you dropped the cake. I actually rather enjoyed this as my first tea. I didn't have the time to sample it in the morning so I saved it for the evening which made for a great bedtime drink and dessert all in one. I added a touch of organic blue agave which only helped to enhance the flavors. It isn't the sort of tea I'd seek out to order but I am very happy I had the opportunity to try it. Let's just say if offered, I would drink it.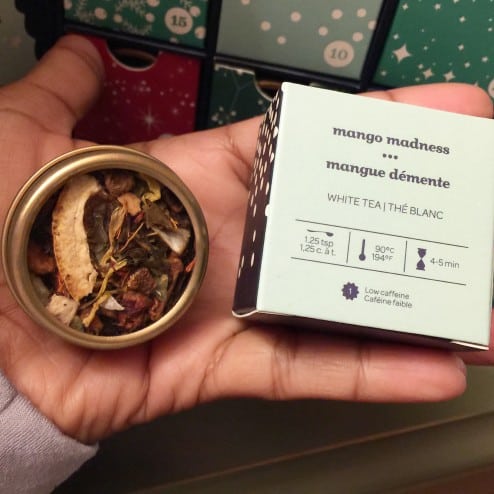 Day 2: Mango Madness White Tea (Least Favorite)
Like day one I was anxious to find out what was awaiting me. When I saw this blend I was intrigued. Mainly because I love mango but white tea and I don't have the best relationship. When it is good it's great but when it isn't I'd rather look the other way. I opened the tin and the aroma was amazing. I quickly thought it would be great iced while lying on the beach. This was particularly appetizing as we here in Chicago just got a fresh blanket of snow. Unfortunately, the aroma didn't translate into the prepared hot beverage. Although I could taste the mango it was oddly muted and lightly creamy. I'm sure there is a better way to describe it but at the moment I really can't find a better descriptor. What I can say is I wish it had a sharper sweetness, a bit more juicy, and a little tart as I would expect from a mango. While this isn't for me I can imagine it would be for many. That's the beauty of tea, it's a very subjective thing.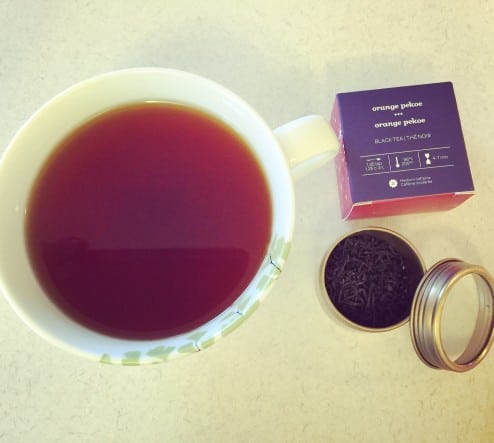 Day 3: Orange Pekoe (Favorite)
What can I say? I was thrilled when I saw this one. I know it's just a simple black tea. So let me be clear there is no such thing as a simple black tea. I love a straight forward tea. I don't need a tea to be dressed up to be delicious. Oh and this was delicious. It really hit the spot, it quenched my thirst, and had the astringency I love. This is one of those teas you keep in your cupboard. It works with every occasion and will likely be enjoyed by most. Delicious!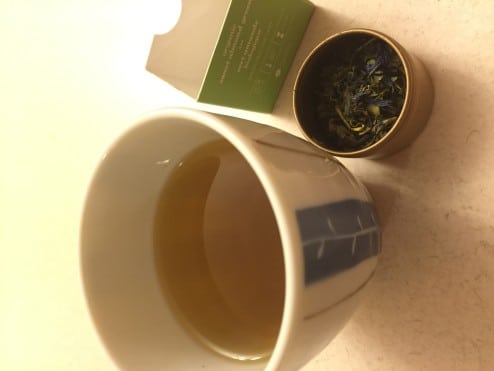 Day 4: Organic Sweet Almond Green
I love almonds. I like them raw, I like them roasted, I like them wrapped in chocolate, I like them with honey, heck I've even covered them in ghee, coconut, and matcha, I also like them in cookies, I like them as marzipan, and of course I love a delicious almond croissant. I say croissant last because upon my first whiff II thought warm, buttery almond croissant. How can this go wrong? Well, I am sad to say the flavor after steeping just wasn't as good as the scent. I could taste occasional hints of almond but none if it really lingered. The green tea was light and complimentary as not to over powder the almond flavor. Though this didn't work me I think it would make a great iced tea on a hot summer day. Unfortunately, I'm a bit short on those at the present time.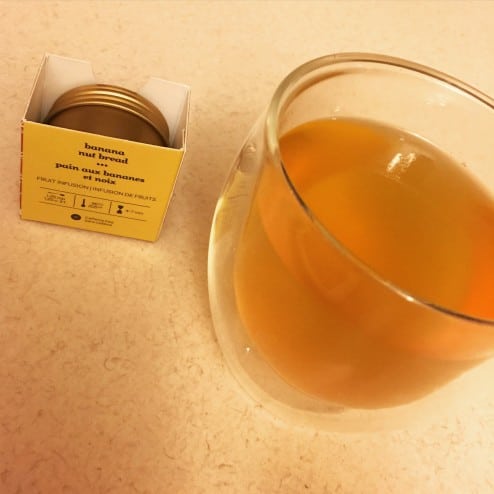 Day 5: Banana Nut Bread
This one nearly hits the nail right on the head. It tastes very similar to Banana Nut Bread. It won't replace the real deal but let's face it, it is pretty darn close. I suspect with a touch of agave it would bring out the natural flavors more and truly feel just like a dessert in your cup. However, this one won't make you feel guilty and have you headed for the gym. I found this mildly nutty, the banana warm and sweet as if baked, and believe it or not a bit buttery.
Next week I'll be reviewing days 6 though 10
Disclosure: My views and opinions are mine and mine alone. I was not paid or given free merchandise for my review. These results are unbiased. Tea is very subjective and judgement should be reserved after you yourself try the tea. Happy sipping.