Life Wrapped In A Velvet Matcha Blanket
Let me first start by saying "thank you" Geoffrey Norman (@lazyliteratus) of Steep Stories for allowing me to sample this amazing matcha from Mizuba Tea Co for whom I am also grateful.
Most months myself and various other tea compatriots gather via the Internet and join in a virtual tea tasting. We call these our Tandem Tea Tasting Hangouts which happen via Google+. The most recent hangout theme was suggested by Geoff. Those who participated were each sent a sample of Daily Matcha from Mizuba Tea Co. Note, drinking the tea of month isn't required to participate. I only encourage you drink something similar to the theme as the conversation can become quite stimulating when you are able to contribute first hand knowledge. Nevertheless, we do not discriminate. All tea enthusiasts are welcome.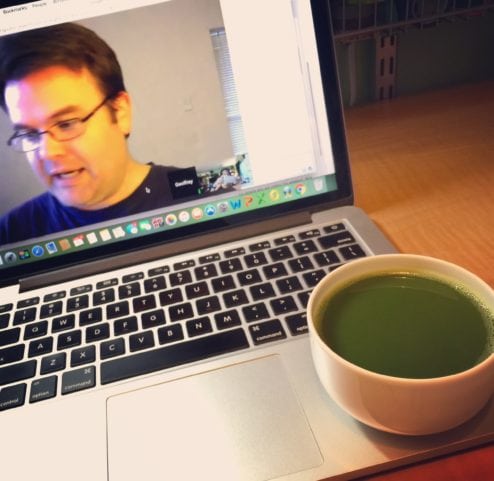 Our participants were Geoffrey Norman (@lazyliteratus) of Steep Stories, Jo Johnson (@jopj) of Scandalous Tea, Sara Shacket (@teahappiness) of Tea Happiness, Nicole Martin (@teaformeplease) of Tea For Me Please, and of course me of iHeartTeas.
As usual our hangouts tend to start late in the evening once children have been put to bed for the night and work over for the day. Usually I would never consider having matcha before bed but in this case I couldn't resist. I threw caution to the wind and prepared my matcha borderline koicha (thick matcha preparation).  To learn more about matcha and its preparation check out the post "Matcha" from one of my favorite tea bloggers Ricardo Caicedo (@riccaicedo) of the blog My Japanese Green Tea.  As I was saying,  I was already dealing with a mild case of partial night time insomnia while recovering from surgery so it only made sense to go for it.
As always I started by spooning the incredibly fine and vibrant green powdered tea into my tea bowl. First I sniffed the dry powder which smelled so lush and green. The aroma closer to Spring vegetation, slightly sweet, dewy, and most definitely fresh and new. During my prep some of matcha remained on my spoon. I feel about matcha the same way Smeagol feels about the "One Ring," it is most definitely "my precious." Naturally this meant I had to lick it off. I refused to let any of the matcha go to waste. I am so glad I did. The taste of the dry powder varied greatly from the aroma. I found it predominately fresh and green with a slight sweetness. Imagine my excitement to actually drink it.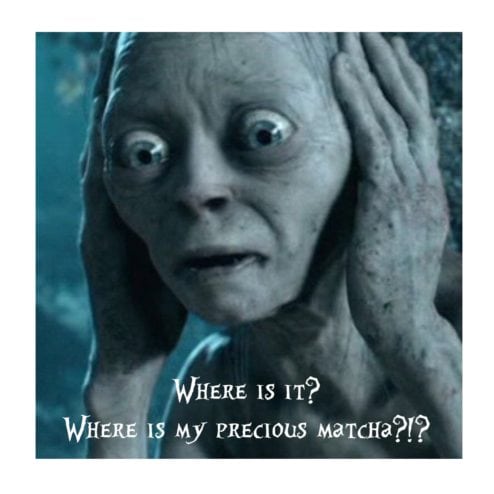 This was actually hysterical. Geoff and I were the only ones on the hangout when I took my first sip. I didn't know what to expect so as we were chatting I just went for it. Literally at that moment the conversation stopped. I was blown away. I have had many different types of matcha in my past. I feel like I have some basic knowledge of what matcha usually tastes like. Normally there are general similarities with subtle nuances that differentiate them from other matcha. I was WRONG! My initial reaction was just how smooth, creamy, and buttery this matcha was. Talk about layers of flavor. The aroma, dry taste, and fully prepared cup all tasted uniquely different. I love this matcha. I am a firm believer there that there is a matcha for every situation. Geoff put it best, it is like "drinking a warm velvet blanket." This must be the coziest cup of warm, buttery, sweet, green, and creamy matcha I have ever had.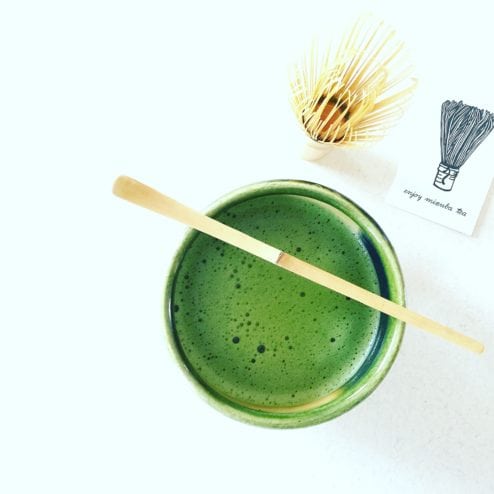 I am officially adding this matcha into the "Comfort Tea" category. I am feel none of my preconceptions were accurate and I love that.
*Photo above courtesy of Mizuba Tea Company Website