I'll be the first to admit, if it isn't baking I tend to eyeball ingredients, use instinct and hope for the best. More often than not I have been successful. Not to toot my own horn but I seem to have a talent for these things. Today I am going to share with you my favorite turmeric latte aka Golden Milk.
I will preface by saying I have tried the prepackaged variety and didn't quite like it as well as I do my homemade version. I have to assume fresher ingredients make for better tasting drinks. The flavors in my latte are brighter which is my preference whereas the prepackaged variety seems to have a duller flavor profile. My theory is since all the different spices are mixed together and allowed to marry create a whole other experience. It may be appealing to others just not me so I still encourage you to give them a try.
Finally, I just wanted to say that I drink these lattes on fairly regular bases because I love the flavors, plus they are wonderfully healthy, and have been known to help those dealing with inflammatory issues such as myself. I am not sure if it actually helps and honestly I don't care. I enjoy the drink and that means the most to me.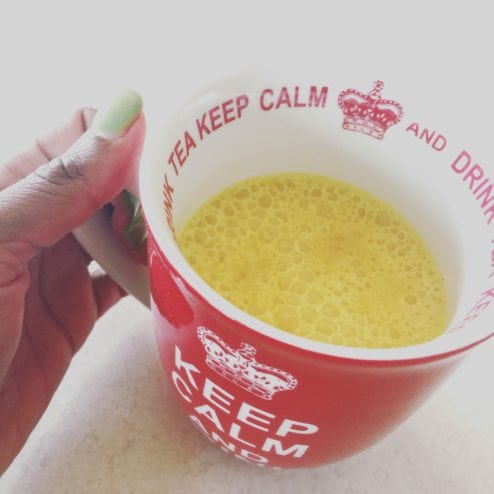 iHeartTeas Golden Milk Latte Recipe
8oz Unsweetened Vanilla Almond Milk
1tbs Organic Ground Turmeric
1tsp Organic Ground Ginger
Dash Ground Black Pepper
Sprinkle Pink Himalayan Sea Salt (optional)
1tbs Organic Extra Virgin Coconut Oil
½tbs Organic Blue Agave (optional)
*Note: Please adjust ingredients to your preference.
Heat the almond milk well. I allow it to boil and then transfer to my Vitamix blender. Sometimes I use a handheld frothing device to blend ingredients. The blender is far easier and does a better job, just more cleanup.
Next, add turmeric, ginger, and pepper. Next add coconut oil and agave. Cover and blend until fully combined. Give it enough time that you achieve froth on top. Pour into your favorite mug. Sprinkle a bit of salt and enjoy immediately.
Tips: The cooler the drink gets the more likely the spices will settle to the bottom if they weren't blended thoroughly. This will create sludge at the bottom of your mug that I am sure you will not enjoy. Lastly be sure to clean your equipment right away turmeric has a tendency to stain.
Enjoy!