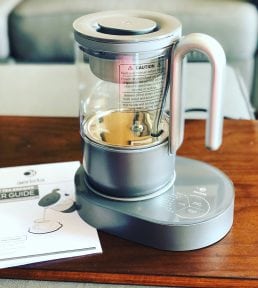 I truly had the highest of hopes for this device.  While I could have received a defective item, I am also hearing a lot of feedback from other backers with issues as well.
This was a Kickstarter that I was first made aware of back in 2016 World Tea Expo.  At the time I met with two of the Qi Aerista Smart Tea Brewer team.  Both Rick and Karen have always been kind people and I am grateful for the opportunity in getting to know them.  As such my review is not a reflection of them just the device I received.
After finally receiving my device about a year later than expected the device itself looked a lot different from the original displayed and demonstrated at Expo.  However, it was still sleek, had an App, and the small footprint that really appealed to me.  The finished product is truly a beautiful piece.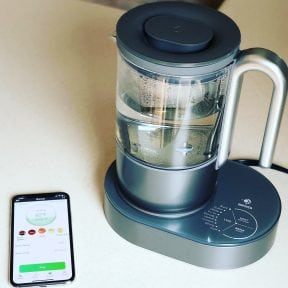 Since receiving the device I have made several cups of tea successfully.  The taste was great and maybe even a touch cleaner than the gaiwan version.
However, I have concerns the device still isn't ready.  Not only did my base arrive with a minor defect but I am also getting an intermittent high pitched whistle and a low grade constant whistle.  This is a huge concern for me.  After consulting with my husband;  an engineer, he was able to hypothesize that it is likely an issue with a transformer or capacitor.  Obviously, without confirming I cannot know for sure but I do trust his expertise and experience in the matter.
Knowing this and add to that some of the other concerns I have seen from other backers, the device may not have been ready.  I know there was a lot of pressure to move this out due to the delay and that could be why.  However, not being a part of that process I couldn't really say for sure.   For now, I can only assess that may be been the result.
With regards to my specific machine, I don't believe it will last long.  With that said, I personally cannot recommend it.  I know that is never what someone wants to hear and believe me I know the Qi Aerista Team put their heart and soul into this project.  Still, wanted to be honest with my feedback and be clear this is only based on my own personal experience.
The reasons are mainly due to the potential electrical issues.  I don't feel safe leaving it plugged in and I don't believe it will have a long life.  Between this and my still functioning Breville One Touch Tea Maker of seven years and going, I suggest the Breville.
I will consider this my first Kickstarter fail.  I know this is a risk.  I know I could reach out to the Qi Aerista Team and I am certain they would attempt to fix the issue.  At this time I have decided to "eat it."  I just feel like I no longer have the patience or desire to peruse it any further.  This is my choice.  At the same time my expectation was to receive a device without any issues, as is for any consumer.
Finally, I wholeheartedly believe the team will and would look into each issue and attempt to rectify it.  I also believe they would likely come out with an updated version, but cannot be certain.  If anything, I would consider waiting for a newer version if one is in the works.  I am sorry I didn't have better news to report.
Don't get me wrong, between now and it's time of death I will use the machine, enjoy the delicious cups of tea, and love the App functionality.  I still love the concept, the functionality, the tech forward design, the flavor of the tea, and the small footprint.  Heck, I even love the esthetics.   I just don't believe it was ready yet.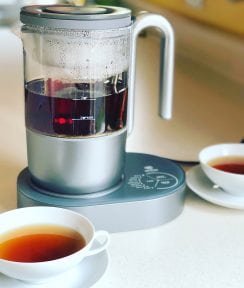 Watch my unboxing video.