6th Annual Tea Bloggers Round Table
World Tea Expo – Las Vegas 2018
1st WTE Edition
In the middle of a Las Vegas heatwave, I find myself within the microcosm of the most influential, industry leading, tea businesses, speakers, educators, bloggers, authors, and origin farmers from far flung places, and the best the world has to offer under one roof.  World Tea Expo, The Super Bowl of Tea.
Looking back over the years the show has certainly evolved.  This year was no exception.  For example, this was the Sixth Annual Tea Bloggers Round Table meeting.  After many years we have finally craved our way into the annals of history with a solid inclusion into the World Tea Expo agenda.  I couldn't be prouder to be one of the many original members organized by Jo Johnson, the multi-talented professional tea blender, blogger, author, artisan jewelry maker, and designer fashion model.
This year we expanded the session to include a writing workshop, a movie, and question and answer period.  The intent was to inspire business owners and enthusiasts to incorporate blogging themselves or outsource a professional blogger for their business that best suit their needs.
Over the years it has become increasingly evident that blogging is here to stay.  The influence of an unbiased and unaffiliated blogger is priceless in any industry.  The giants like Amazon, Apple, and Google all know this and have known this for a long time and is a clear driver of sales.  We believe it is high time the tea industry grabs their market share and start using bloggers to influence their marketability.  Knowing that the endorsements and criticisms don't come from on-staff personnel increases their credibility.  It also seems evident that consumers reading blogs, posting to social media, and publish their own newsletter are looking to build a long-term and trusting relationship with the writers.  Getting to know the blogger makes a huge impact.  Having a real face and real personality is the secret to much of a bloggers success. Consider all the successful You Tubers out there, they build a base using their voice and personality within the niche community they serve.  Knowing they have no affiliation to anyone one business gives them the freedom of opinion we all love, as any review you are likely to see has no strings attached.  When you have the combination of trust, expertise, respect, and personality you have a recipe for the "Perfect Storm."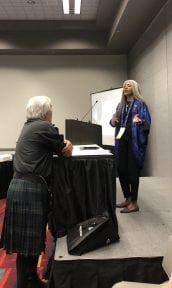 Pictured: Gary Robson and moderator Jo Johnson of Scandalous Tea.
Thank you all for inviting me back to join the Tea Bloggers Round Table.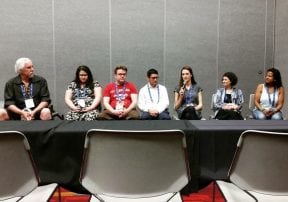 Pictured from the left: Gary Robson of Tea with Gary, Charissa Gascho of Oolong Owl, Geoffrey Norman of Steep Stories, Ricardo Caicedo of My Japanese Green Tea Blog, Anna Mariani of The Tea Squirrel, Sara Shacket of Tea Happiness, and me Rachel Carter of iHeartTeas and MindBodyKarma.Life