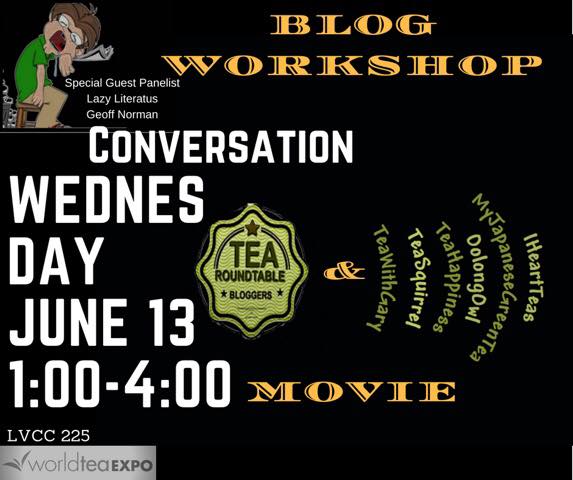 Wow, it has been some time since I have written.  I have gone back to school and I am about to graduate from the Institute of Integrative Nutrition.  This July I will be presented a certificate of completion and will officially be an Integrative Nutrition Health Coach.  It was a yearlong, time consuming, and comprehensive curriculum.  Totally worth the time and effort and as such I was forced to divert my attention from this blog.  However, do not fret.  I am back!  What better way to make it back into the blogging lime light than to head to World Tea Expo in Las Vegas next week.   Believe it or not I even learned about tea during my studies.
World Tea Expo is June 12-15, 2018.  I am honored to say I was invited again this year to provide coverage of the event as press and to participate in the Tea Bloggers Roundtable after my extended break from blogging.  Do not worry I still drank plenty of tea as I studied away.
If you are headed to Vegas, you need to stop everything and check out the Tea Bloggers Roundtable.  The details on who, what, when, and where are on the graphic.  This year is going to be extra special.  Which also means extra special thanks are in order for our organizer and head cheerleader Jo Johnson aka A Gift of Tea.  This year the event is schedule to be a lot more than just Q&A, though we fellow bloggers love to banter.  This year, you will enjoy the banter, a presentation, watch the movie, "The Tea Explorer" by Jeff Fuchs, followed by a workshop exercise in blog writing.  This is a 3-hr journey through all things tea and blogging.  You are not going to want to miss it.
Finally, this year we will be featuring The Lazy Literatus, My Japanaese Green Tea, Oolong Owl, Tea Happiness, Tea Squirrel, Tea with Gary, and yours truly, iHeartTeas.  Do not forget our organizer and host A Gift of Tea.
Can't wait to see you all very soon.  It will be Tea-rrific!