YuanYang: Traditional Chinese Coffee Drink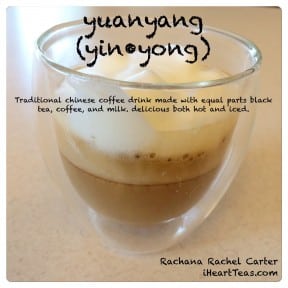 Made this surprisingly tasty drink for breakfast this morning with my special friend @jopj in mind.  I made a slight variation as follows…
Recipe:
1oz Black Tea (Used River Shannon from Upton Tea Imports)
1 Shot Indriya Nespresso Espresso
1oz Cream (Frothed) – I used Organic Half & Half from Trader Joes
I poured in layers. Coffee first, then tea, finished with cream. No sweetener was added. It is bold and awaking. Rich and complex. Delicious… I will make it again.
Source: I found this recipe on Pinterest. Follow the link for more details.  Yuanyang Chinese Coffee
Hi, my name is Rachana Rachel Carter.I am a long time tea addict, foodie, and wine enthusiast. Along with all my passions at the core I am a huge health and fitness advocate.Plus a bit of a geek and as crafty as can be.
When I am not running after the kids, managing the household, and homeschooling my oldest I enjoy blogging about my passions and how it applies to my life.

Thank you for reading!
Latest posts by iheartteas (see all)