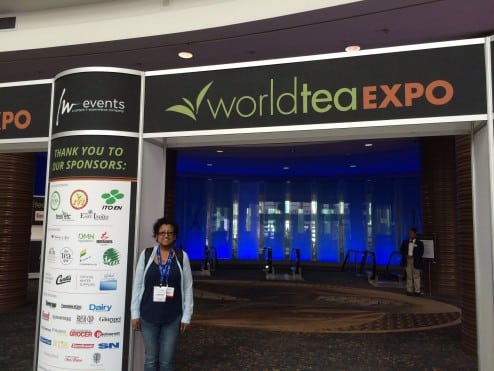 Let me start by saying this trip was a special one for me. It was my first adventure on my own that wasn't exactly what you would call a traditional business trip, in this case I'm the only boss I report to. I had a wonderful opportunity to meet new people and reunite with old friends. Being able to visit with tea friends after hours was rewarding. If not for that opportunity I may have not learned first hand how to grow tea by Jason MacDonald of The Great Mississippi Tea Company or be able to drink tea with the Tealet Team at the Tealet House. There I even had the pleasure of an extended meeting with Mr. James Norwood Pratt who also happened to be awarded the Lifetime Acheivement Award.  He is such a kind, genuine, and brilliant man. His presence is like the way of the force. It is a power I have not felt in a long time a power that carries through great distances. Even after returning home, his interaction with me is just as strong as the day I had to pleasure of meeting him. Thank you for the memories.
Of course I can't forget there was the foodie adventures put together by Chris Giddings of Teaity that opened my palette to a new gastric experience. In this case we had Peruvian food, my first and very satisfying experience. For that I thank my friend Chris and fellow dinner compatriots, Nicole Schwartz of The Devotea USA, Phil Holmes of World Tea House, Jason MacDonald and Timothy Gipson of The Great Mississippi Tea Company.
Special thanks go to Nicole Schwartz, Naomi Rosen, Katrina Munichiello, Jo Johnson, Nicole Martin, Geoffrey Norman, Chris Giddings, Jen Piccotti, Natasha Nesic, Phil Holmes, Rie Tutali, Elyse Petersen, Jason MacDonald, Dan Bolton, Thomas Shu, Ricardo Caicedo, Sterling Pratt, Darlene Meyers-Perry, Rajiv Lochan, Gary and his wonderful wife Kathy Robson for making this trip so memorable. Of course my fellow tea bloggers of the Roundtable I can never forget you. You know who you are. Thanks Nicole Schwartz for keeping me focused, Naomi for being my workout buddy and chauffeur, Jo for being such an amazing promoter and organizer of the Tea Bloggers Roundtable and for putting up with me as your roommate. Of course Geoff for including me in the "Pocket Oolong" adventures. I've decided I won't elaborate and those who attended will know what that means. If I have forgotten anyone I deeply apologize. The tea family means so much to me. There has never been a group of people so committed to community, generosity, and kindness. It is an honor to be apart of something so amazing and special. Thank you all.
Now for my mini-announcement. This year I plan on doing a lot more focusing on my blog. I have decided that I will leave the business of tea to the other fine folks in the industry many of which I know and love. I haven't given up just decided to take a step back. Right now is the time for me to focus more on family. So for now I will leave my tea blending and tea inspired bath and body creations to more of a hobby. I moved my site iHeartTeas.com to Etsy. At first it was a temporary move but I feel it is best suited there. This way I still have the ability to create, share, and make a sustainable income. My goal for the site is to make enough money to pay to keep the blog going, keep me swimming in tea, and get me to sunny Las Vegas next year.
I hope you continue to follow my tea adventures on my blog and Etsy site to see what new creations my mad tea science of a mind come up with.  If you can please take a moment to follow my blog on Blog Lovin' the link can be found on the top right on this post and like my new Facebook Page I would be forever grateful. It is my goal to provide a unique voice in the tea blogging community and the only way to help spread the message starts with you. Thank you and can't wait to see everyone again next year.
Please enjoy these pictures I've chosen to memorialize the special event.