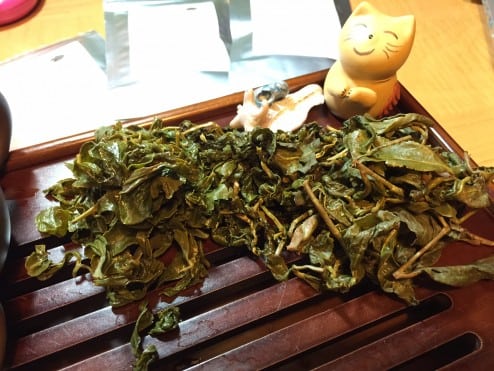 Recently I was fortunate to have been invited to a exclusive tea tasting of some new Taiwanese teas that were just recently released on The Devotea USA website. Before the official unveiling Nicole Schwartz the proprietor of the US branch and tea blender asked a select few tea bloggers such as Geoffrey Norman (@lazyliteratus) and Jo Johnson (@jopj) were in attendance along with myself.  We were asked to sample 3 new teas that are now available on her site. Naturally, I jumped at the opportunity.
Nicole asked that we each only blog about one of the teas and not all three. I can only assume it is to leave an heir of mystery for the big release. My job today is to only wet your appetite or rather peak your "in-tea-rest." So I shall do just that.
*My observations and opinions are mine and mine alone. It is best to sample teas yourself before forming an opinion. When tasting I do not add anything additional to my tea such as milk and sugar unless required or requested.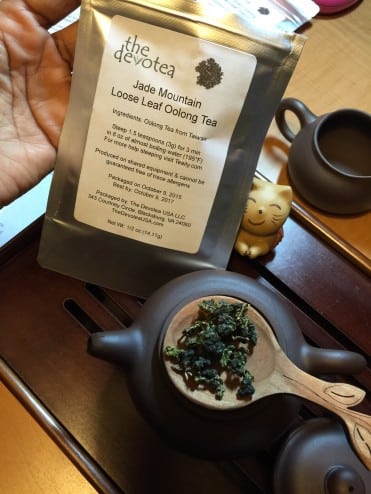 Jade Mountain Loose Leaf Oolong Tea
Oolong Tea From Taiwan
Dry Leaf: Gorgeous, fairly compact, and a vibrant deep green.
Flavor Profile: I didn't steep past two times though I know I could have gone longer. I opted not to as I was sampling three different teas at a rather late hour. If I ever planned on getting to sleep I needed to limit myself. Nevertheless, this was not what you would typically expect from a Jade Mountain Oolong. With that said it doesn't mean it is bad by any means. If anything it is unique. The profile more subtle and slightly sweet. A delicate tea that could easily have been infused multiple times and perhaps paired with a simple buttery shortbread cookie.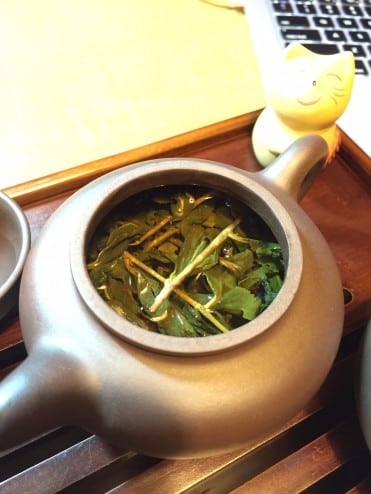 Wet Leaves: The leaves expand a great deal and you are left with very large and very vibrant green leaves. I can imagine that a certain friend of mine which makes beautiful jewelry with tea leaves could make something absolutely stunning with these leaves. In case you are unaware of this talented woman her name is Jo Johnson of Scandalous Tea. Note, my snail tea pet pictured all the way below here is a gift handmade by Jo. Thanks again!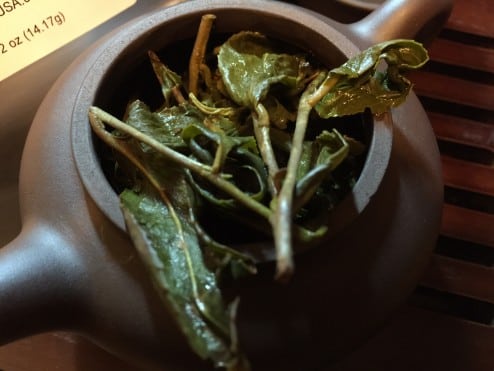 Overall Thoughts: I truly believe adding a few more unblended teas to The Devotea USA catalog is a great addition to the catalog and complimentary to the brand . I recommend you give them a try. If you preferred flavored teas you won't go wrong with the choices she has available. My absolute favorite is Rose Blush.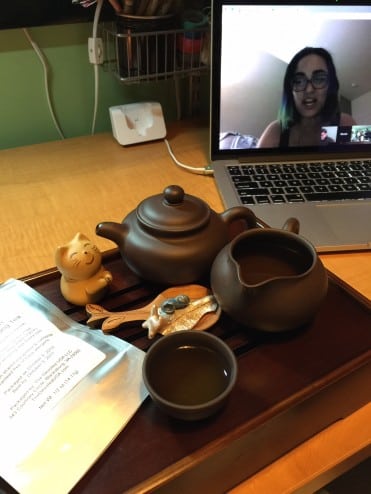 Other Teas Tasted
Organic Green Tea (Taiwanese Green Tea)
Ali Shan Oolong
Thank you for including me in the very exciting and memorable tea tasting Nicole of The Devotea USA