If you have ever wondered what it looks like when a tea fanatic takes an impromptu vacation with the family this is it.
Obviously, there is tea and a lot of it.  On this trip there were two local establishments literally across from one another.  Adagio Teas and Davids Tea and of course I had to make a stop or two.
Normally, I would wait until I was home, in the comfort of my own Wifi and laptop but in this case I just couldn't wait to write.  I decided to take advantage of the time while my husband and daughter partake in swimming pool shenanigans.   I have been given bedtime duty with the little guy.  So as I sit in the dark watching The Incredibles for the one millionth time in my hotel room I bring you me tea adventures.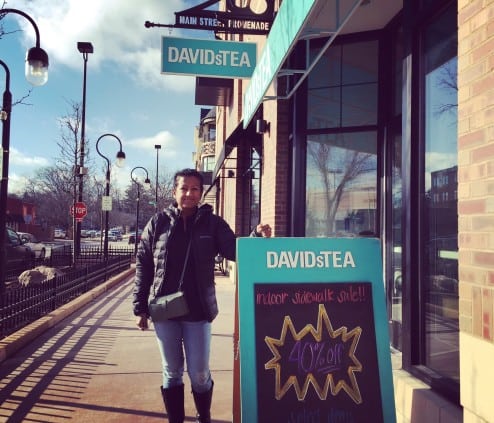 First stop, David's Tea.  Why? I've never been to a physical store location.  Giddy with excitement I took the family all in tow and off we went to explore.  I decided on the Matcha Shot which just happened to be on special for $2 bucks a shot.  I was going to get the ceremonial matcha but decided to try something different.  I inquired about the Grand Cru and asked what the difference was between that and the Ceremonial Matcha.  Unfortunately the bartender wasn't knowledgable about the various matcha options.  Disappointed, I decided to sniff both and went with the Grand Cru.  The aroma seemed more vibrant and I was in the mood for a bit of a wake up.  A much needed boost of energy after spending the day cruising through the DuPage Children's Museum with the kids.  After tasting the matcha I wasn't all to impressed.  It was satisfactory, it hit the spot and I moved on.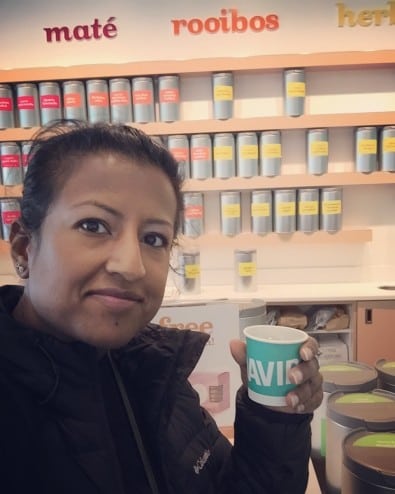 My daughter decided on a Pink Lemonade Teapop.  For those that don't know, it is steeped tea with carbonated water.  Very similar to an Italian Soda.  It is totally customizable which is nice and you can get it made from any of the teas available.  She didn't like it at first but after adding the appropriate amount of agave it was finally acceptable.  As a matter of fact my two year old son also endulged and enjoyed it.  However, as we are typically a family of traditional tea drinkers we found the Teapop was a bit lost on us.  That doesn't mean we don't go outside our comfort zone but often we fall back into what we enjoy most.  Good old fashioned straight teas.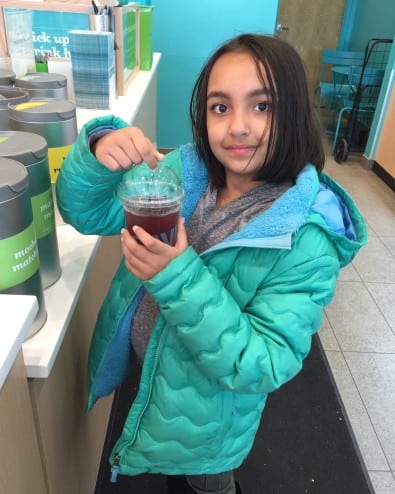 Before leaving the store I got a Facebook notification asking me if I grabbed some Honey Black tea.  Wouldn't you know I almost walked out without it.  Thank you @jopj for the reminder. It would have been terrible if I left without it.  Why? Myself and a number of other tea bloggers hold a Google+ Hangout where we drink tea and discuss just about everything and one of the teas we are going to be drinking is this very tea.  So glad I picked it up.  I also grabbed some tea chocolates and coconut agave sticks.
You would think it would have been over after that but I happened to be back in town and after dinner.  Obviously, I needed an after dinner tea.  So after careful contemplation I decided to head back to David's Tea and grab a hot cup of Honey Black.  For two reasons, one I just heard a fellow tea blogger @lazyliteratus got his press pass for the World Tea Expo which meant I needed a celebratory cup.  The second reason, I was just too darn curious.  I had to try the Honey Black prepared.  They handed me the cup and told me 3-6 mins to steep.  I have to admit that stuff is good.  So glad @sirwilliamoftheleaf suggested that tea.  It will make for a great tea during a future Google+ Hangout.  I would share more specific tasting notes but those I'll save for after our G+ Hangout.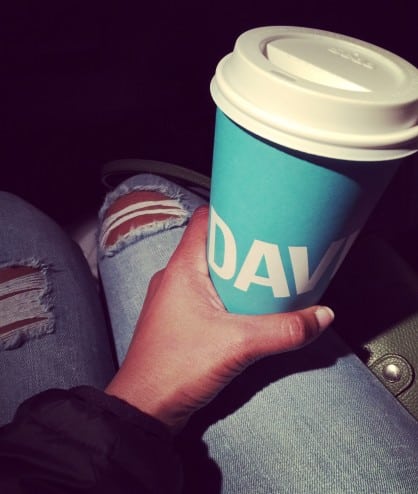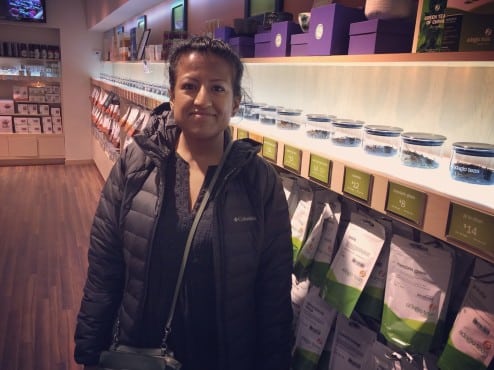 Second stop was Adagio Teas.  The last time I visited was when it first opened.  Not exactly sure how long ago that was but I'll guess about two years ago.  The place is generally the same with a few changes.  I noticed they were carrying a lot of the Fandom Series.  Pretty cool, I have always loved the art featured on the tins.  Though I didn't buy anything I did sample the Golden Monkey.  It was delicious as usual.  I also tried the Ti Kuan Yin.  The aroma was unreal but the flavor wasn't for me.  My daughter on the other hand loved it and had seconds.  The one thing I love about the samples you get at Adagio is they aren't presweetened.  I hate that!  If I want sugar I'll put it in myself.  Another cool thing is they keep a basket of free sample tea bags you can take with you.  I didn't grab one because I know I wouldn't drink it but it is pretty nice.  You can grab a bag and try it at your leisure.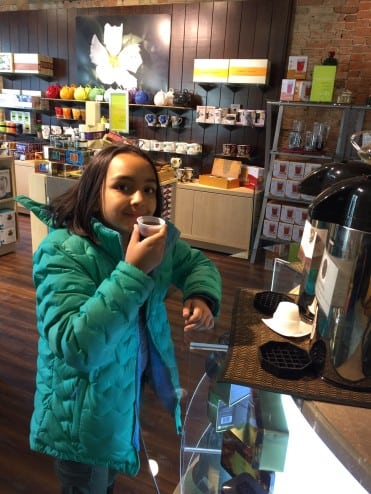 That about rounds up my very exciting tea day.  We leave town tomorrow.  There is a chance I'll try to talk my husband into driving back into town so I can grab a tea to-go.  Haven't decided where from but I'm sure I'll need it since we are forecasted to be at 1°F, perfect hot tea weather.