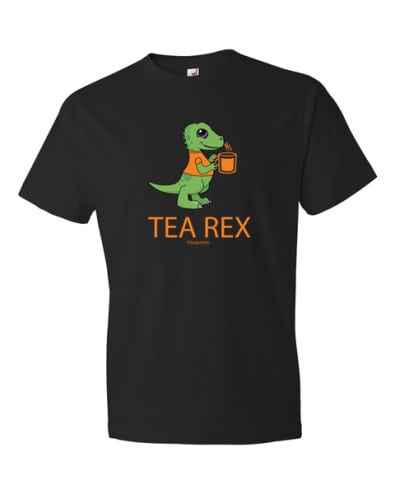 *Image taken from Teaprints Website  
Like most fanatics, be it Star Wars, Star Trek, Dr. Who, or Harry Potter there is a huge subculture out there for those us often obsessed. Though all of the above aforementioned are also obsessions of mine nothing quite meets with the same level as tea. That is saying a lot because I really do enjoy submersing myself in most things geeky. Tea however is something I literally eat, drink, breathe and now wear thanks to the awesome tea inspired designs by Teaprints.
Last December I was contacted by the owner of Teaprints, Rosanne Muncy. As she already knew I was a fan of her creations she asked if I wouldn't mind reviewing a shirt of hers. That was a no brainer. Of course I jumped at the chance. I decided to go with the "Tea-Rex" shirt. An easy choice.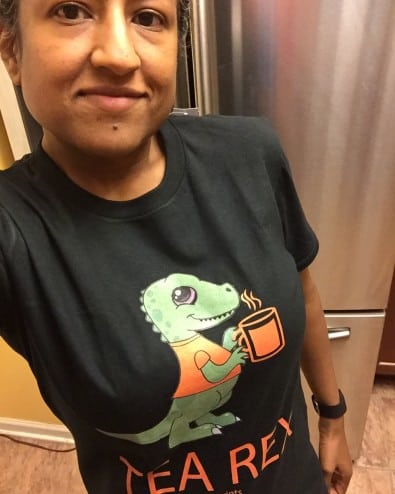 The "Tea-Rex" is one I have admired for some time now. The T-Rex holding a mug which is without a doubt filled with a hot cup of tea is so freaking adorable. So let's dive in, I'll first cover the details…
1. Shirt: Tea-Rex
2. Size: Small
3. Color: Black
4. Material: 100% Lightweight Cotton
5. Fit: Classic
6. Pre-Shrunk
Right out of the packaging I was impressed with the quality of the shirt. I couldn't wait to try it so I put it on and fell in love with it right away. The image was perfectly centered and the fit was perfect.
Pros:
1. High image quality
2. Vibrant Colors
3. Perfect fit
4. Durable fabric
5. Even more adorable in person
6. Now available as a hoodie. (Huge hoodie junkie over here.)
Cons:
1. Wish there were more shirt style options (Such as tanks and sweatshirts)
2. More fit options. (Other options in addition to "classic fit.")
I personally am not always into uni-sex shirts. I prefer a more feminine look and a variety of fabric options. Something that is a bit more smooth, softer, maybe even an option similar to a Bella Tank. That would apply to hoodies and sweatshirts too. Of course that doesn't mean I don't like what I have. Far from it. I love my Tea-Rex. My only recommendation would be a larger variety of fabric and shirt styles. Perhaps as the business expands, which I have no doubt will. More options will naturally be apart of their expansion. For example the recent new addition of hoodies. All in good time I suppose. For now I'll just have to grab a cup of tea and be patient.
Overall: Highly Recommend! Go get yours today.
Thank you so much for allowing me the opportunity to review one of your amazing Tea-Shirts, Teaprints! It was an absolute pleasure.