DAY ONE: Tealet After Hours
This year I have decided to take an alternative approach to my coverage of World Tea Expo.  I'd like to take my reader to the event.  See what I saw and experience what I experienced.  It was brought to my attention that I may be a bit of a social media maven.  Hundreds of pictures and videos later it seemed only appropriate to share those.  Especially due to my proclivity to all things visual.  As they say you should always play to your strengths so I did just that.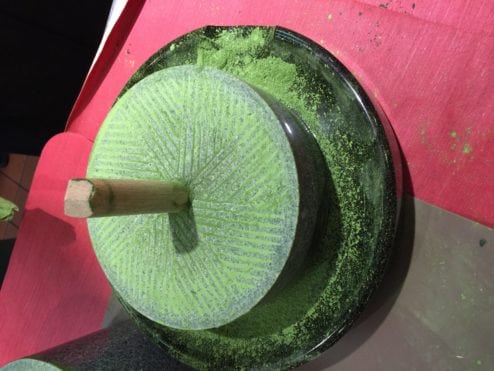 *Freshly ground matcha
Enjoy this short video of my experience at the Niu-Gu Restaurant.  Here we were served many delicious courses that paired perfectly with each tea presented.  As a special treat we were given the opportunity to sample one tea grown in different regions both north and south for the explicit reason of identifying the difference between the two.  A blind taste test as it were.  That was a fun time for sure. Lastly we were treated to a matcha grinding demonstration in the most traditional of fashion.  What a beautiful process.  We were able to sample the before and after.  Some might know that I truly enjoy eating certain teas and the tencha here was no exception.  Let's just say I didn't just have seconds, more like five samples.  The ground matcha was then prepared, served, and drunk with gusto amongst the entire table.  Tonight I shared my table with none other than James Norwood Pratt, his lovely wife, Naomi Rosen of Joys Teaspoon, Geoffrey Norman of Steep Stories, and two new friends Leo Nima, and Sara both I truly enjoyed sharing diner, tea, and conversation.  To complete the evening Julia Arrasmith-Matson of Bingley Teas joined us for a little matcha and conversation. Good times.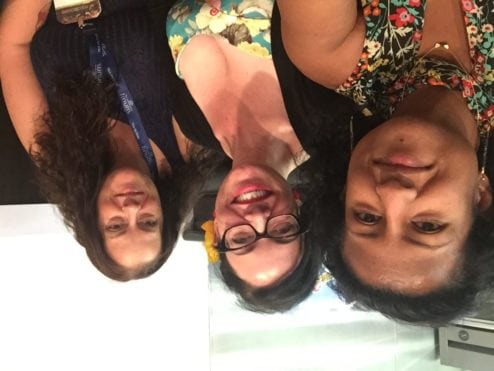 *From Left: Rachel Rachel Carter of iHeartTeas, Julia Arrasmith-Matson of Bingley Teas, and Naomi Rosen of Joys Teaspoon
By the way…Matcha Tres Leche Cake.  Handmade. Delicious. Thanks, for sharing your love and passion with all of Elyse!