The Wall Tea Infuser: Boreal Wildcraft Tea Company
In the final day of World Tea Expo I made a deliberate effort to find items that really spoke to how tea has evolved and the vessels in which to prepare them in.  I'm a gadget girl and not always do the gadgets need to be flashy.  Sometimes even simple innovation can change how you look at the world and how and things are done.  Honestly, sometimes you just don't know you need something until you see.  That moment where you wonder where it has been all your life.  The Wall Tea Infuser is just that revolutionary product that sets a lightbulb off in your head.  My tea drinking world just blew up.
Here is a little information about The Wall Tea Infuser by Boreal Wildcraft Tea Company.  I suggest you watch the video above and see it in action.  Here is a little background. In the final moments of expo Sara Shacket of Tea Happiness, Nicole Schwartz of TheDevotea USA made our made our mad dash to collect our very own tea steeper from Boreal Wildcraft's booth.  We were not going to leave without it.
It didn't come to any surprise that displayed promonenetly at their booth was a sign that they won the "New Product Award" award in the "Tea Ware Accessories." It only confirmed my need to have this in my collection.  Best part is since returning home I've been using it all the time.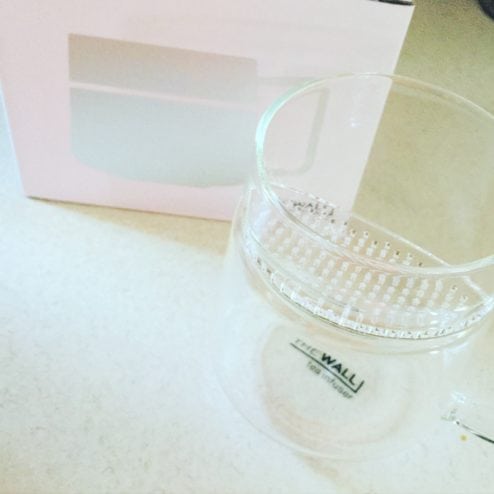 Features:
Beautiful Glass Design
Used to drink tea "Grandpa Style" (Leave tea leaves in the cup. No discarding of leaves until the glass is empty and ready to be cleaned.
Built in filter prevents tea leaves entering the month.
Available in both Right and Left Handed Versions
Available in Large and Small Sizes
*Not sure if it is dishwasher safe. I prefer to hand wash anyway just to keep it looking beautiful.
Purchase Below: