My Life Steeped In Tea
Week: July 11-17 2016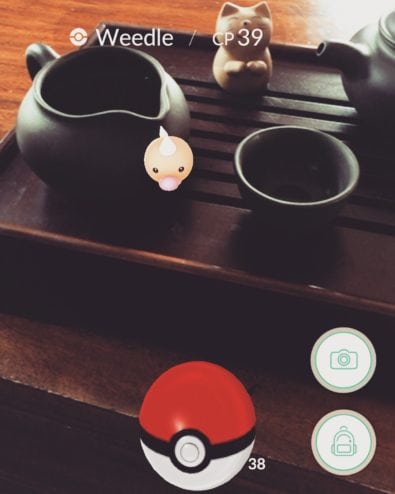 Pokèmon & Puerh
It's true I have jumped on the Pokèmon Go band wagon.  Naturally I needed to find a way to get my Pokèmon to share a cup of tea with me.  Here I have a Weedle joining me for a little Puerh .  The puerh and Pokèmon pairing is essentially perfection.  Both take time to evolve.  Both take patience to catch and taste.   This particular Puerh I got from World Tea Expo 2016.  However, the downside is I totally forgot what it is and from which company it came from.  For that I apologize.  If I remember I will update this post.  Unlike the twenty steeps I enjoyed with this Puerh I no longer have the patience to play Pokèmon Go so it seems that fad has ended for me but the Puerh will always live on.  On a side note this is the Puerh my daughter fell in love with.  Even drank it the entire day with me and along side her Summer School work as pictured below.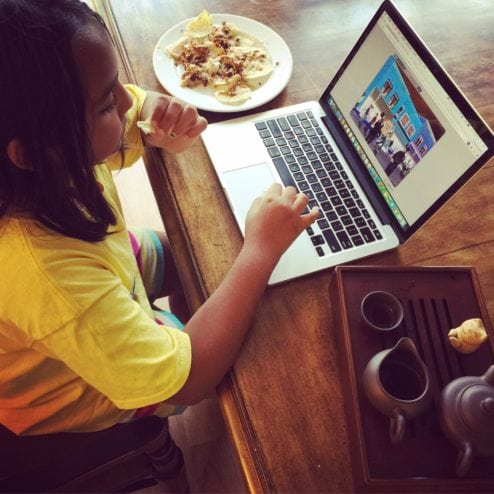 Alex, School, and Puerh Of Course
Above is my daughter Alexandria enjoying her Puerh along side her school work.   This was her first day of Summer School.  Her idea on both tea and school, not mine.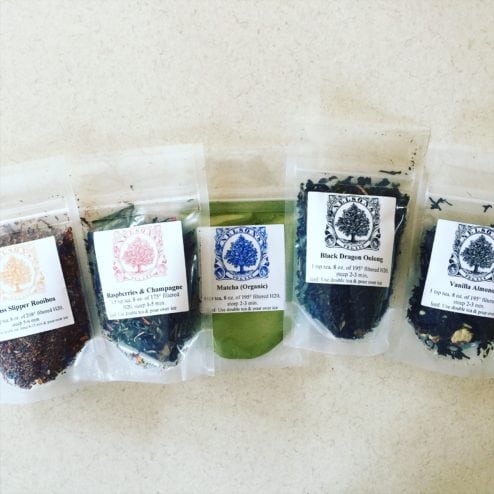 #TeaMail from Nelsons Tea
Who doesn't love to get tea mail?  On this day Nelsons Tea generously sent me many teas to sample and review.  I was especially surprised and thankful to get some Matcha.  We all know how much I love matcha.  Can't wait to dig in.  The only question is if I go traditional preparation or my usual off brand tea connections.  Experimenting is fun!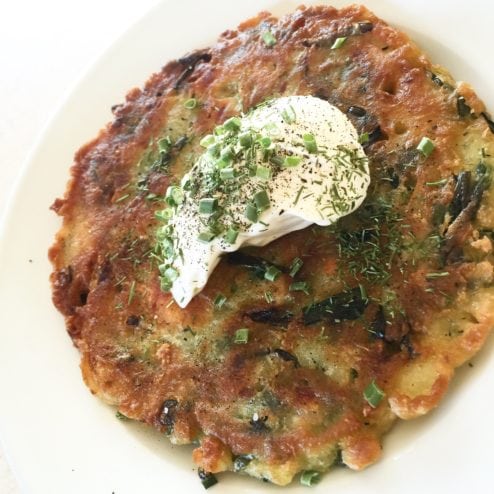 Trader Joes & Tea Pairing
What we have here is a delicious Scallion Pancake which is a wonderful savory treat from Trader Joes that was recommended to me by Jo Johnson of Scandelous Tea.  Wow, am I ever thankful for the recommendation.  As with most things I tweaked it. I added dill, chives, and ground Lapsang Souchong Tea from Sanctuary T for that added savory flavors both bright and smoky.  I finished it off with a dollop of Crème Fraîche to round it off.  Simply amazing and highly addictive.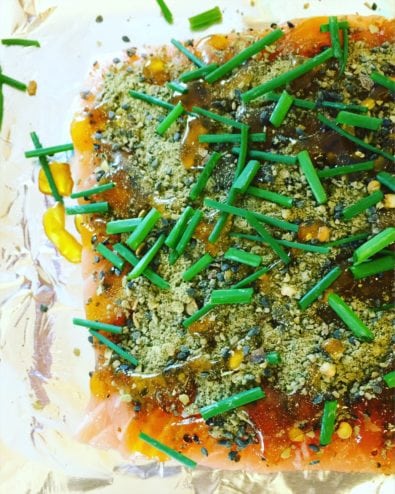 Matcha Tea Rub & Salmon Bake (Before Pictures Above)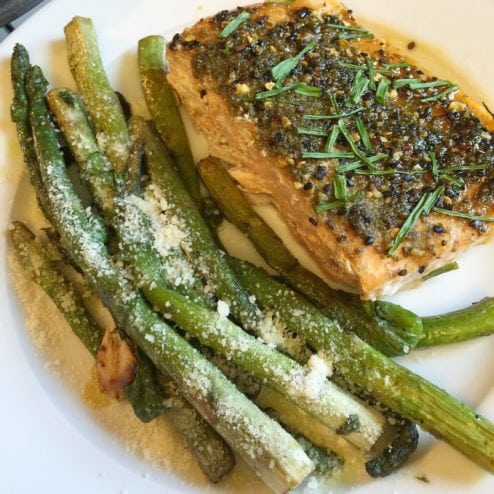 Matcha Tea Rub & Salmon Bake (After Pictured Above)
This incredibly simply recipe was given to me by Darlene Meyers-Perry of The Tea Lovers Archives.  I couldn't be more thankful.   The matcha rub was something she thoughtfully mailed to me because the Whole Foods in my region didn't offer it.  Of course the rub is the main star here.  Just make sure you use fresh salmon.  I got this salmon from Trader Joes.   I topped it with a generous amount of rub, next drizzled on some Turkish Honey also from Trader Joes and then topped it off with fresh cut chives instead of scallions since I didn't have any.  I baked it covered at 350°F for roughly 20mins and then uncovered for about 10 mins.  I am sure you will need to tweet the cook time based on your desires but this is a great starting point.  As you can see I paired it with sautéed asparagus that I cooked using olive oil, salt, pepper and Parmesan cheese.  A very healthy and flavorful meal.
This week I received a message from Numi Tea that my recipe for the drink pictured above was runner up in their tea recipe contest.  Needless to say I was excited to hear the news.  It's true that I didn't win the grand prize but it seems I will be getting a nice tea present in the mail regardless.  Seems my years cooking and concocting with tea is starting to pay off. Click on the recipe name above to see the complete recipe so you can make your own.  This recipe happens to be another one of my Trader Joes and Tea Pairings.  Life sure is tea-rrific!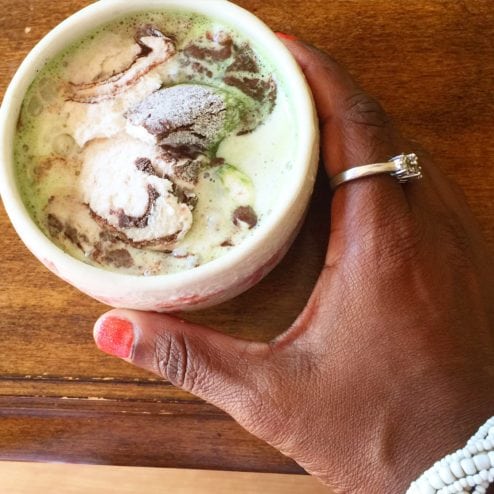 Matcha Affogato
This experience was bitter sweet.  I start with the sweet.  I used Mizuba Tea Co Daily Matcha.  The matcha that my fellow Google Plus Hangout pals and I describe as a "velvety smooth blanket" you truly could wrap yourself around this one.  I made the matcha double strong so that it could handle the addition of ice cream.  I added a coconut fudge vanilla ice cream.  The  combination was like a dream.  Now the bitter news.  I am officially out of the Mizuba Matcha.  Looks like a purchase is in my near future.  Thanks for sample and mind altering experience Geoff aka @lazyliteratus of Steep Stories.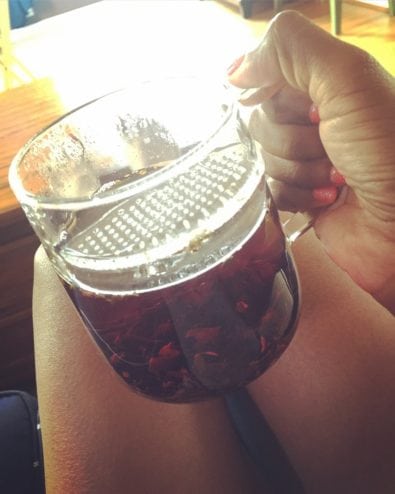 Afternoon Tea Grandpa Style
It was just one of those days that needed a lovely tea that could with stand the laziest of preparation and still taste great.  My The Wall mug from Boreal Wildcraft Tea Company has made an aggressive move forward in my tea ware usage.  I have been using it a ton since I picked one up at World Tea Expo 2016.  Sometimes I just want a no fuss cup of tea.  A cup of tea that is forgiving and this one fits the bill.  I am drinking a black tea blend from Lupicia Tea called Afternoon Tea.  It is a blend of Darjeeling and Assam.  It hits the spot and gets the job done with minimal effort.  Just the way I like it.  Click on The Wall to see the mug in action.
Stay tuned for next weeks summary of my life steeped in tea.