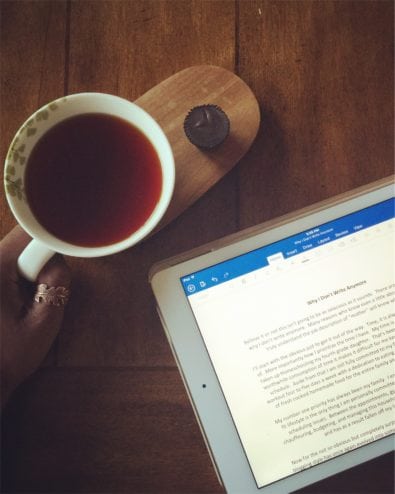 *Drinking Afternoon Tea from Lupicia Fresh Tea.  A robust, yet rounded black tea blend of Assam and Darjeeling.  Perfect to push me through when I need to focus.  Paired with a dark chocolate peanut butter cup from Trader Joes.  That one speaks for itself.  Delicious!
Believe it or not this isn't going to be as salacious as it sounds. There are a number of reasons why I don't write anymore. Many reasons who know even a little about me and others that truly understand the job description of "mother" will know where I am going.
I'll start with the obvious just to get it out of the way. Time, it is always time and the lack there of. More importantly how I prioritize the time I have. My time is at all time premium. I have taken up Homeschooling my fourth grade daughter. That's been a huge time hog. Though a worthwhile consumption of time it makes it difficult for me keep a more consistent blogging schedule. Aside from that I am still fully committed to my fitness routine which means a workout four to five days a week with a dedication to eating healthy. For me that means a lot of fresh cooked homemade food for the entire family and cups and cups of amazing tea.
My number one priority has always been my family. I enjoy being there for them always. My fit lifestyle is the only thing I am personally committed to that I won't waver on expect for scheduling issues. Between the appointments, gym time, cooking, cleaning, teaching, chauffeuring, budgeting, and managing this household. My writing has taken the biggest hit and has as a result fallen off my list of priorities…for now.
Now for the not so obvious but completely surprising reason why I don't write anymore. My blogging style has once again evolved into something new. Majority of my audience including the tea, fit, and foodie audience doesn't always want an official potentially lengthy piece on particular subject matter. This is especially true if I can summarize my thoughts into a condensed, "Readers Digest" version. I know and respect a lot of successful bloggers that take the time and effort to work on some very educational, deep, and thought provoking posts. I am certain they still have a place in the blogging world. That has never really been my blogging style which is why what I'm about to share works for me. My audience has actually been asking for something different. Readers, viewers, and businesses alike have directly informed me and in many cases have requested that promote them via social media rather than a formal blog post. It seems generally my audience would prefer quick notes attached to photo regarding a product I have tried. People have expressed their approval with my photos and ability to contact me on various platforms such as Instagram, Facebook, and Twitter to ask additional questions. I have an acceptable response time which it has allowed me to develop more relationships with people. I have successfully fostered and maintain far more relationships through social media channels than I have through my blog via the comments section.
For now and the foreseeable future I will continue "micro-blogging," a term I started using sometime ago that seems to have stuck and makes sense for me. This way I am still sharing, even short bursts at a time. When topics require something more I will write a formal blog. Posting thoughts and photos even via Social Media will allow me to still share and enjoy my passions with you. Passions like my obsession with tea, coffee, wine, food, family, fitness, and life.
I hope this will be a positive turn into a new way for me to focus on sharing my experiences. While still feverishly trying to maintain even a silver of organization with my ever growing lists of responsibility paired with my incessant need to succeed and flourish in anything I tackle.