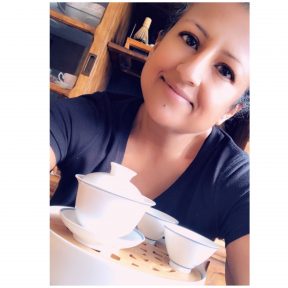 Yesterday was Valentine's Day and as a wife and mother of two and half (dog) it isn't your typical candlelit dinner celebration with romance afoot anymore.  After twenty-two years of marriage Valentine's Day and our idea of how to celebrate evolves over the years.
These days a celebration is showing each family member how valued and loved they are.  Sure, we skip the extravagant gifts (most of the time) and instead opt for small and tasteful.  The main goal is to create new memories as a family.  I do believe we accomplished that task as there is no way we will forget the Valentine's Day where mom had to swerve, slam on the brakes, and avoid hitting a deer. Just inches away from a different outcome.
Go back a few hours and we start the day with a few small gifts.  Crafting essentials for my daughter, small toys, and stickers for my son, and nuts, candies, and techie gadgets to make our house even smarter than it is now for my husband.
After the excitement of gifts passed, I just knew I needed to make a cup of tea.  Some people celebrate with wine or champagne.  I can get behind the wine idea but for me it has always been tea first.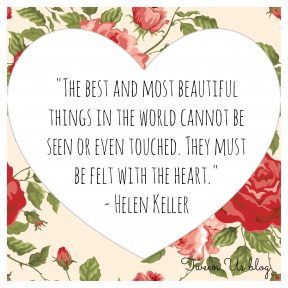 Tea is romantic when it is shared or even drank alone.  Tea settles the mind, warms your soul, brings you joy, just like my Valentine.  So, what better way to celebrate the day then to be surrounded by my family.  There isn't one.   I celebrated with a gigantic box of organic vegan chocolate from Coracao Chocolates, a gorgeous bouquet of sustainably grown, farm fresh, eco-friendly flowers from The Bouqs Company, and gaiwan full of Organic Lhotse Black Tea direct from Nepal, sent to me by Nepali Tea Traders, all to be shared with my favorite people.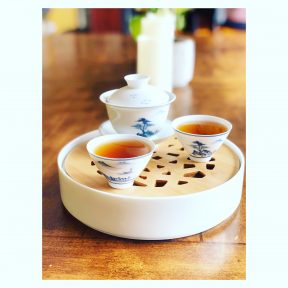 The Organic Lhotse Nepali Black Tea from Nepali Tea Traders does not have your typical black tea profile, so it felt like the perfect option for a special day.  Before I get into the tea let me just say that when you buy from this company you are supporting small woman owned business.  These are real people with real families.  I know two members of the Nepali Tea Trader business and they are genuine as can be.  You can taste their passion in the tea they select to offer us the consumer.  Every step of the way there is love, passion, and drive to bring us the best of Nepal. They also believe in sustainable farming practice which aligns with my beliefs as well.  As they say there is "No Planet B."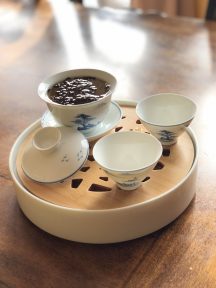 Knowing that I want to share with you my thoughts on the Organic Lhotse Black Tea.  As per their website this particular tea comes from Jasbirye Village in Nepal.  It is first hand-rolled then finished with a mechanical rolling to give it that fine twist.  When you drink this tea, you see the red rust color in the liquor, it starts with a recognizable black tea flavor but as you continue to sip you start to taste the unique profile.  It finishes off with notes of pecan something you just don't typically get in a black tea.  As such what was a tea that started for two later became four. Anytime, tea comes out and the aroma permeates the air the rest of the family always makes their way to the table turning from two to four without a doubt.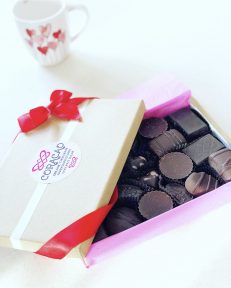 Now, If you are looking for chocolate you don't need to feel guilty about then Coracao Chocolates is my go-to.  They are always organic, dark chocolate, low glycemic, never use processed sugar, in fact they use coconut sugar.  Plus, always simple, real ingredients, that I guarantee you will be able to pronounce. I have said it before, I don't believe in restriction-based lifestyle.  When you eat quality foods, made with fresh ingredients you can indulge in moderation.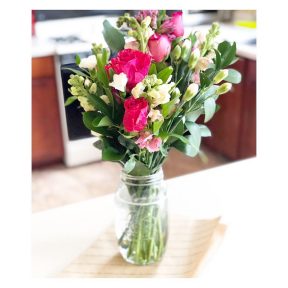 Lastly, as a family we also like to go a step above and try to live a "green" lifestyle.  It is a transition we have been working on from using bamboo toilet paper and tissues, to paper plates made using sugar cane, eco-friendly detergents, and etc.  We feel the same applies to farming practices.  As such when opt to support organizations that take farming sustainability seriously like The Bouqs Company.  They work with farms, only cut to order so as not to waste and ship directly to the customer from the farm.    Just another way to love our planet.
By the end of the day we finished with a family trip to the chiropractor, then pizza at Mod Pizza, a near miss of a deer and fun family memories for years.
Happy Belated Valentine's Day!