Matcha vs Sencha Challenge Day 5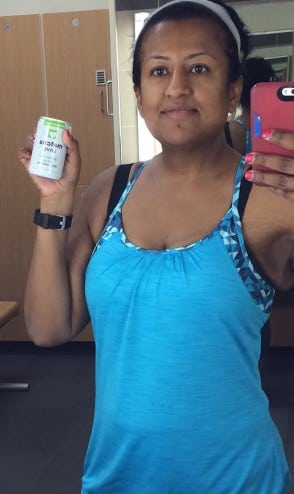 I'll make this one quick. I plan on tomorrow's post to be the final of the daily series. I will still continue the challenge for an entire month and will post once a week until the month is up. I would have continued daily but I'll be honest it is a bit much for me plus I don't think there is much interest in this series of posts especially on a daily basis. My plan is to get back to the World Tea Expo posts. I have much more to write about what I saw, what I drank, and the people I got to see. With that said I'll get on with today's results.
Note: I am not a doctor. These are my experiences and mine alone. This is by no means scientific. The only control items are my general workout times and the consumption of one can of Unsweetened Matcha Love before I start..
Thus far the biggest and most unexpected outcome of drinking a can of Unsweetened Matcha Love from Ito En before every workout is a mental. I seem to get a steady surge of positive feelings and the desire to do my best. I get an all around "good feeling" if not for anything else I will keep drinking this for that amazing feeling. When it comes to my workout I think it is enhanced by the steady flow of energy. There is no awkward burst and no sudden decline. It is also fairly long lasting. I often feel ready to do more even when my workout is done. I am more capable and less whiny about getting the rest of the day's activities done. I can only see that as a huge positive. As for the Sencha Shot, I feel it maybe it gave me more of a burst of power. If I am strictly looking for something to help me push me to my physical limits perhaps the Sencha Shot is where I'd turn. I am not currently training for anything like a 5K so I don't think it is necessary for me to have daily.
My focus right now is losing the last few more pounds I need to get to my goal and then I'll be entering weight maintenance mode. I've never been in "maintenance mode" before so there is much to learn and a little obvious fear. I never want to be overweight again. As I learn my around this new way of life I'll be sure to include my readers throughout for as long as you will have me. I write these posts as much for me as I do for my readers. These posts are a chronicle of my journey. I think they will help to remind me where I was and how far I have come. As for me readers I hope I can help with their own goals.
The only constant throughout my journey has been tea. Before starting on my path to a healthy and fit lifestyle there were only two other things aside from my family that I had a passion for. These two things I have loved for many years, the first tea and the second crafting. I primarily enjoy card making, stamping, and scrapbooking which all fall under the umbrella term, crafting.
Most anything else I ever tried I quit, sometimes within a week of trying it. I have always been great at starting things but the worst at finishing them. However, these days I have a third passion which is to stay fit, healthy, and to be the best I can be everyday. I have now stuck with it for nearly ten months and with nearly ninety pounds lost. I think it's fair to say…I have three passions now. Officially addicted for life!
See you tomorrow!