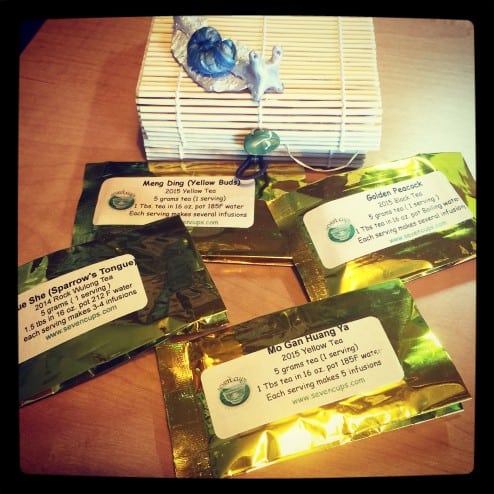 One of my favorite things just happened on October 23, 2015.  A tea tasting with some of my most favorite tea friends and bloggers.  This particular event was hosted and coordinated by none other than the wonderful Jo Johnson (@jopj) of Scandalous Tea (aka @agiftoftea).  As many of you already know she is quite the talented jewelry maker, her muse the tea leaf which she loves so dearly.  She used those talents and sent each one of the panelist a gorgeous handmade tea pet which happens to be a darling little snail.  I am still working on a name for the newest member of my tea family.  Rest assured I will come up something perfect.  Also within the beautiful package were four teas individually packaged and ready for tasting.  The teas were graciously provided by Seven Cups.  If you haven't already checked them out I recommend you do so right after you finish reading this post.  Before I start writing about my thoughts on the three teas we all tasted together and the forth bonus tea I tasted on my own I just wanted wanted to officially thank all those involved in making this such a great tea drinking experience.  Thank you Jo and Seven Cups for your generosity.  Thank you to my tea drinking panelists for making the event so much fun and educational.  Please see below for more information on all those involved and their respected tea blogs.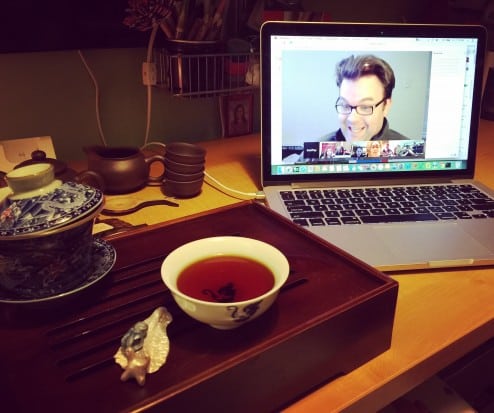 Tea Bloggers Panel
Jo Johnson (@jopj): Scandalous Tea
Geoffrey Norman (@lazyliteratus): Steep Stories of the Lazy Literatus
Nicole Martin (@teaformeplease): Tea For Me Please
Nicole Schwartz (@amazonv): AmazonV Tea Taste Tracking
Linda Gaylard: The Tea Stylist
Robert Godden (@thedevotea): Lord Devotea's Tea Spouts
Sara Shacket (@teahappiness): Tea Happiness
Darlene Meyers-Perry: The Tea Enthusiast's Scrapbook
Jen Piccotti: An International Tea Moment
*Note: My tasting notes are just that, mine.  These opinions are non-biased and of my own.  As you should already know every persons palette will vary thus it would be in your best interest to sample the teas yourself before making judgement.  Thank you!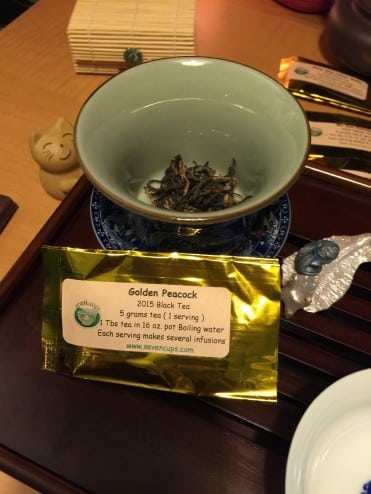 Tea #1:
Tasting Notes:  This tea offers a slight smoky note on the second steep and more chocolatey on the first.  I found this particular tea a bit thinner yet bold.  I especially appreciate that tea is organic as many are from Seven Cups.  This is of special interest to me as I have moved in the direction of organic in many daily foods and drinks my family and I consume.  Most notably this tea has hints of cocoa, slight bit of deep cherry, and a touch of sweet like the essence of a smooth cigar.  What I admire most is how forgiving it is if over steeped.  It also paired beautifully with some Dark Chocolate made by Endangered Species which is comprised of 72% Cacao. I picked mine up from Whole Foods.
Overall: A wonderful everyday black tea with a bit of unique character.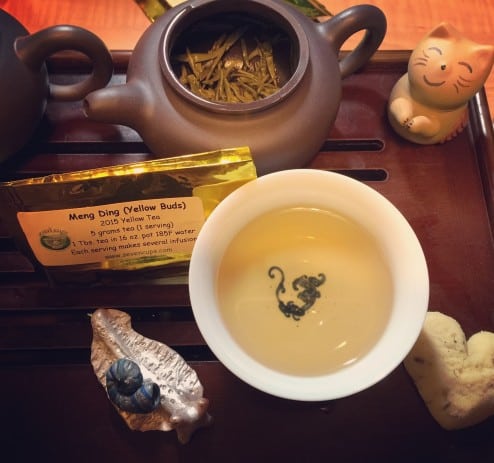 Tea #2:
Meng Ding Yellow Buds (2015 Yellow Tea)
Tasting Notes: Immediately this particular tea imposed a vegetal flavor profile.  I found it right on the front of the first steep then it completely disappeared on the second.  Like a slap in the face there was a strong essence of asparagus.  Which isn't bad thing for me at all.  I found the flavor only lasted when it was first quickly drank from the cup and the water still fairly warm.  After which the flavor dissipated rather quickly.   The second steep was stronger which is something I personally enjoy.  Though all of the fresh vegetable flavor had gone you got a nice greener cup. Note, this too is organic.
Overall: This was my least favorite of all three teas sampled.  However, the initial sip of the hot cup on the first steep was enjoyable.  I also later paired this from some all natural Lemon Lavender Shortbread Cookies I picked up from Whole Foods.  They paired very well together. Then again who doesn't love tea and cookies (biscuits)?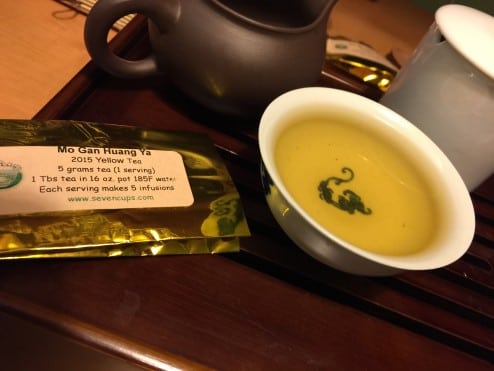 Tea #3:
Mo Gan Huang Ya (2015 Yellow Tea)
Tasting Notes: By far my most favorite of all four.  This one stood up to several steeps.  It was slightly cream which I love.  It took very well to over steeping so naturally I did just that and enjoyed the flavors very much.  One of my favorite things about this tea is how as it cooled it became sweeter.  If you were to only purchase one of these teas, I would start with this one. Bonus, also organic.
Overall: My personal favorite tea with a great sweet finish and a creamy start.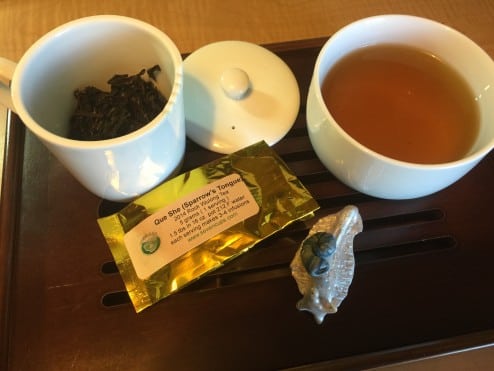 Bonus Tasting Tea #4:
Que She (Sparrow's Tongue) 2014 Rock Wulong Tea
Tasting Notes: I just love how roasty this one is on the first steep.  This one is my second favorite of all the four teas I have tasted.  However only the first steep.  The second steep I actually forgot to time and I know it sat in water much too long.  Where I was expecting a stronger cup it actually tasted more watery and a bit sharp.  However, I admit the flavor improved as it cooled.  My suggestion is stick with the proper times and water temperature on this one and you will surely be in for a treat.
Overall: Not so forgiving when overstepped but the first steep is stellar.  Great roasted flavor with a charcoal-ness to the finish.  Keep time and water temps at the optimal range and you won't be disappointed.
Thanks for reading!