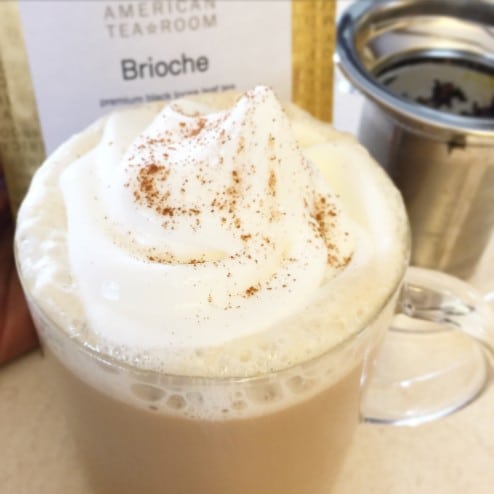 Part 2 of 2
In part one of two featuring the Tea Infuser Mug from American Tea Room I showed you a few of the features the mug has to offer. A few of my favorites start with the infuser basket that clicks securely into the mug, its large capacity, and clear glass design.
In part two you will see me use the tea infuser mug for the first time plus I will be sampling American Tea Room's Brioche black tea blend. It was a favorite among a few of my fellow tea bloggers, which meant I needed to try it immediately. Plus as the holidays are quickly approaching what better way to use the mug than with a warming cozy tea latte. The Brioche tea blend contains almonds and cinnamon with a vanilla profile. To me this would make a delicious holiday inspired tea latte and so it shall be.
I have included a video that will show you majority of the steps I took to make a cup of tea in the infuser mug. However, when making your own tea latte please follow my edited recipe below. The changes were made after tasting the tea latte I created in the video.
Overall, color me impressed. Looking at the simple design may fool others into believing this mug is just like the rest but I assure you that is not the case. It is that simple design which is most impressive. For the most part I was able to make a cup of tea with one hand as I held my camera with the other. That is a very valuable feature as a mother that is always doing a million and a half things at once. Having an additional hand available to do something else is a major bonus. For that feature alone I would keep this gem by my side at all times. Of course there are other cool features too. For example it is all glass so you will only taste the ingredients you put in and nothing of what you put in there prior. It is a clear vessel, which allows you to enjoy the beauty of the concoction you create. The lid turns into the trivet that can hold your infuser basket when you are done brewing or use it as a lid to keep your drink warm. I could go on and on but this infuser mug had me at its ease of use. Everything is just icing.
Speaking of icing, the Brioche Black Tea Blend did not disappoint. It literally tasted like a warm slightly spiced buttery croissant. If that doesn't win you over I'm not sure what will.   In my case I made it even more decadent. Creating a tea latte with this blend only made sense due to the accommodating size of the mug. Don't take my word for it. Check out the video and these mouth-watering pictures and judge for yourself.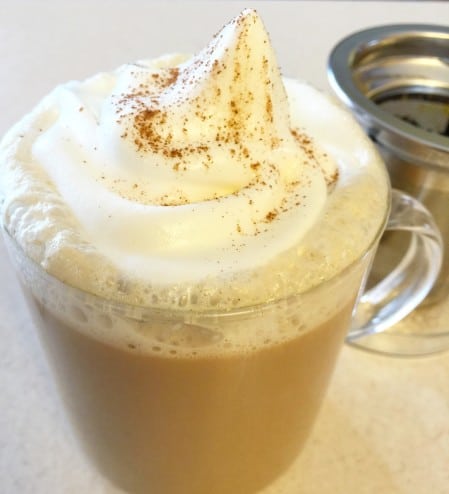 Brioche Tea Latte Recipe
(Use this recipe and not the one from the video)
14oz water at 208ºF
1 Diamond Sugar Stir from Chambre De Sucre (plus 1 additional teaspoon sugar) or substitute 2 to 3tsp sugar or sweetener of your choice
4tbsp Half & Half (Warmed and Frothed)
Whipped Cream (Optional)
Ground Cinnamon (Optional)
Directions:
Place tea into the infuser basket and securely place the basket into the mug. Pour hot water into the mug and cover. Allow the tea to steep for about 5 to 8mins depending on your desired strength. I believe I would have preferred closer to 8mins. About a minute before your tea is finished steeping warm your milk and froth. Next, remove the infuser basket and rest on the lid included with your mug. Pour in your frothed milk, stir in sugar, and enjoy. For an added touch of elegance top with whipped cream and a dash of cinnamon.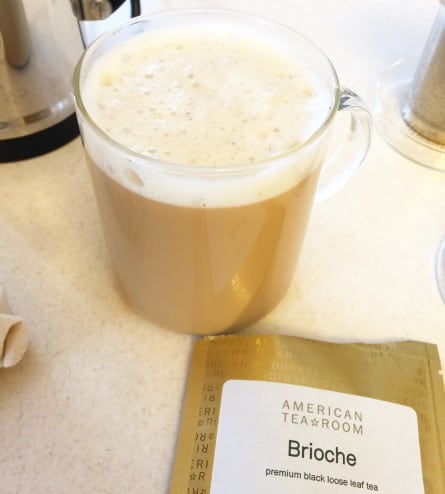 Thank you again Tony Gebely of the American Tea Room for the generous gift.
Note: This was a gift. A review was not requested. My views are my own and unbiased.