Las Vegas 2019
Two Worlds Collide
It seems hard to believe that this is my sixth year at Expo, which would have been seventh had I not stayed behind after the birth of my son, no regrets.  With that said I feel my gears have changed a bit since my very first visit.  My main purpose of tasting as many teas as I could possibly taste and gobble up as many samples as I could cram into my luggage was definitely not my main purpose.
This year my purpose was more refined.  I wasn't a novice after all.  Not only have I started to develop a name for myself as the woman on a mission to find unique new teas and trends I have expanded into the health and wellness field and it truly shows.   As a matter of fact, it was showing up everywhere at the Expo too. Finally, this was my time.  I had been preparing for just this.
Health and Wellness is taking the world by storm and tea is very much on the forefront.  With the decline of health and the rising cost of medical care, that usually does no more than manage symptoms, people want more than just a pill.  They are asking for alternatives.  They are looking for alternatives moving away from the traditional method of popping pills and depending on big pharma.  It brings me great joy that what I was seeing at the Expo was more companies trying to adapt to meet that demand.   From speakers like Christine Kapperman, Editor-in-Chief of Natural Foods focusing on "Today's Trends: Beyond the Brew" such as CBD, tea mocktails, plus the continuing trend of kombucha and matcha.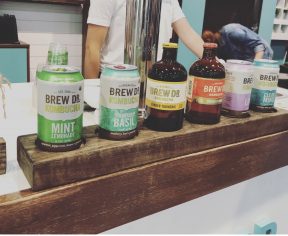 (Kombucha from Brew Doctor)
The new trends are truly turning the tide and focusing on organic, plant-based options, and herbal medicinal products.   People are eyes wide open in search of ways to truly help us live a life where we are feeding ourselves with the goal to fuel ourselves and still keep the experience exciting.  The days of bar hopping and eating fast food are on a decline.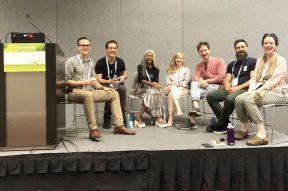 (ASTA Panel Left to Right: Andrew McNeill, with Seven Cups Fine Chinese Tea, Michael Ortiz, Founder/CEO of JoJo Teas, Jo Johnson, coordinator at A Gift of Tea, Cynthia Fazekas, wholesale sales manager for Adagio Teas, Jordan G. Hardin, food & beverage director for Alfred Inc, Noli Ergas of Sugimoto America, Suzette Hammond, professional tea trainer and founder of Being Tea)
A few stand outs came from speakers at the ASTA Panel.  There they discussed the tea trends and what millennials really want.  Including beautifully appointed tea bars focused on tea cocktails and mocktails.  People are really looking for a new bar experience, one that is more enlightening and doesn't leave you with regrets later. I couldn't agree more.  With the focus being on health, mindfulness, self care, reading labels, and being more environmentally conscience there is a huge shift in thinking when it comes to the full tea experience.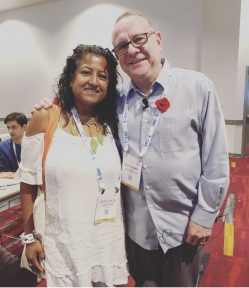 (Kyle Stewart Owner of The Cultured Cup and Myself)
During my time at the "Think Like a Sommelier" session hosted by Kyle Stewart and James Tidwell there has been a notable and increasingly acceptable shift in thinking about tea the same way we think of wine.   Like wine consumers, tea aficionados are looking to dive deep into the world of tea. Such as getting to know origin, where tea was grown and how, the impact of climate on production during specific growing seasons.  It is equally fascinating that consumers are looking for the different nuances in tea say from a 2019 tea compared to the previous years.  Perhaps gone are the years of producing a tea that tastes exactly the same year after year.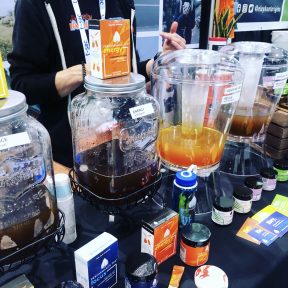 (Adaptogen and CBD Teas from Performance Tea)
What I loved most about the experience is the inclusion of tea in this new world of holistic health. When my two worlds collide, I get a special kind of giddy and they did not disappoint.  This year I saw a booth by Performance Tea that was serving up CBD and functional mushroom infused tea.  The combination of superfoods, tea, and CBD is so interesting to me.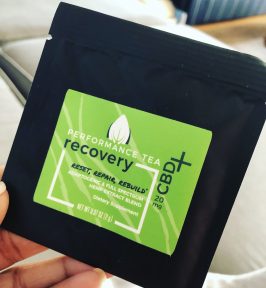 I tried the Recovery blend that contains functional mushrooms, apoptogenic herbs, and 20mg of CBD, although no actual tea is in the package which was disappointing.  Nevertheless, I did like the effort and the demand for healthier options and I did find the taste palatable.  I think that more needs to go into formulating a product that will have the masses grabbing for these types of products, but it is certainly nice to see the demand. As a Health Coach specializing in Gut Health and a Certified Tea Specialist this truly is a great time for alternative methods to finding better health and finding so many options this year at World Tea Expo helped me to see a more promising future.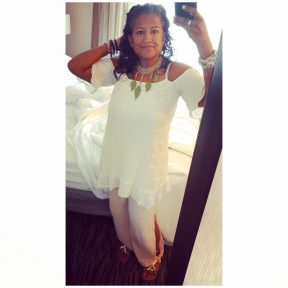 (Day one outfit for World Tea Expo complete with handmade Tea Leaf necklace by none other than JoAni Johnson herself)
Keep an eye out for more posts on World Tea Expo soon.  I will be focusing on experiences, tea after parties, herbal and white tea surprises, and more.